September Spotlight
Spotlights on area women making news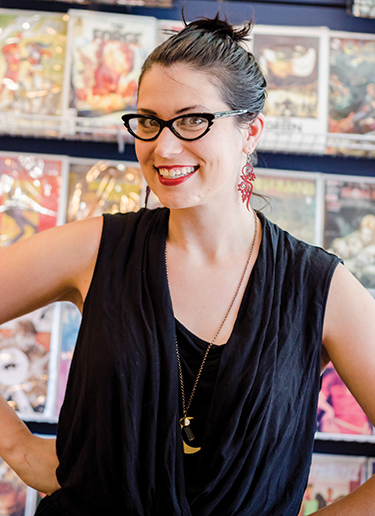 Pow! Howard hits the (comic) books
Locally based comic book writer TINI HOWARD has added more national titles to her credits.
Howard is writing issues No. 3-6 of Mighty Morphin Power Rangers: Pink, which is published by BOOM! Studios. The issues make up the rest of the series, Howard says.
She broke through the comic book world in 2014, writing on Magdalena: Seventh Sacrament from Image/Top Cow comics after submitting to the publisher's hunt, which reserved a spot for a female team to promote diversity in comics.
She was part of The Secret Loves of Geek Girls last year, which is being republished from Dark Horse Comics this fall.
Howard now also is working on another Magdalena series from Top Cow comics, as well as an original work The Skeptics from new publisher Black Mask Studios.
"I'm so incredibly grateful to be able to write about some of my favorite characters – I want to tell ten-year-old me that she'd get to write stories for the Pink Ranger she loved on screen," Howard says. "I've got even more coming soon, so stay tuned."
– Vicky Janowski
​
​
Wilson joins CCU as regional director
Corning Credit Union named BELINDA WILSON as regional director of its Wilmington market.
In the role, Wilson's responsibilities include business development and growth strategies. She also leads teams that serve members of the four CCU Wilmington-area branches.
Wilson has worked in the financial services industry for twenty-nine years and was previously chief development officer of Piedmont Advantage Credit Union in Winston-Salem.
She also serves on the United Way Women's Leadership Council and the Novant Health Foundation. Wilson is a graduate of the University of Phoenix with a degree in business administration/marketing.
"I am excited to serve the financial needs of the residents and businesses in Wilmington," Wilson says.
– Emily Mohorn

Davis named Pender Memorial's chief medical officer
Pender Memorial Hospital recently designated HEATHER DAVIS as its chief medical officer.
In the role, which is part of the hospital's senior leadership team, Davis works with the manager of clinical outcomes and chief nursing officer, to provide direction and input into the clinical quality, patient safety, and performance measures for the hospital, among other duties.
Davis was serving as Pender Memorial's chief of staff, while also working with residents at the New Hanover Regional Medical Center-Coastal Family Medicine practice as an adjunct professor of the UNC School of Medicine with NHRMC's graduate medical education program, officials say.
Davis, a doctor of osteopathic medicine, she has served as the medical director of the hospitalist program since 2013 and is a member of the board of trustees for both Pender Memorial and NHRMC.
– Vicky Janowski​
CWA elects board of directors
The Coastal Women Attorneys chapter recently announced the members of its 2016-17 board of directors.
LINDA DOLAN will remain as president for the new term. LINDA SAYED will operate as vice-president, KARA GANSMANN as treasurer, NANCY GUYTON as secretary, PAULA KOHUT as chapter liaison to the North Carolina Association of Women Attorneys, SARAH SEATON as Fourth Judicial District representative, MIRIAM THOMPSON as Fifth Judicial District representative, and TAMIKA JENKINS-RICE as 13th Judicial District representative.
The term features new chair positions. Leading these divisions are MELISSA WRIGHT for the group's events committee, THOMPSON for membership, and GUYTON for communications.
The Coastal Women Attorneys chapter was formed in 2013.
– Alexis Garrett