September Spotlight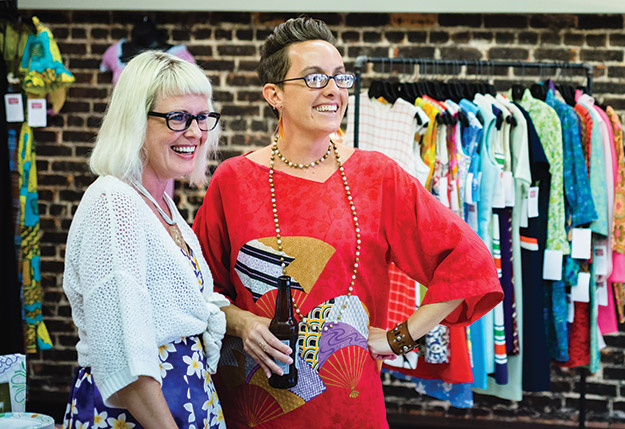 Vintage social club takes off
The owner of Second Skin Vintage, KARYN OETTING, (above right with Hannah Reid of Manic Vintage), wishes to help people "get over the phobia of being the most dressed up" at the party. As a way to unite local vintage lovers, Oetting launched her I Love Vintage Social Club in early July.
The salon-style monthly discussion group is held 5-7 p.m. on the first Tuesday of every month and meets at Oetting's store, 615 Castle Street.
The first hour of the meeting is reserved for socializing with food and drinks, while the second half consists of more loosely moderated discussions led by Oetting and occasional guest speakers.
She founded the group as a way to "invite customers and like-minded people to talk, drink, and discuss" vintage fashion and common interests in a welcoming and social setting, Oetting says. Info: Facebook.com/SecondSkinVintage
– Carly Rutledge
Battleship Commission has first chairwoman
Gov. Pat McCrory recently appointed local District Court Judge Sandra Ray as chairwoman of the U.S.S. North Carolina Battleship Commission, making her the first women to head up the group, officials said.
She previously served as a board member for eight years. The commission adopts rules and regulations for maintaining and operating the Battleship North Carolina as a permanent memorial and exhibit. The attraction is currently in the middle of a significant fundraising campaign to repair damage to the ship's hull.
Ray is a judge for the 5th District Court, which includes New Hanover and Pender counties.
– Vicky Janowski
Softball team takes state championship
A group of pint-sized hitters bested the rest of the state recently to take home a championship title.
A team of seven- and eight-year-old girls from around that county who play Little League Softball with the Wilmington FastPitch groups clinched the state championship for the eight-and-under softball division. As an all-star team formed from individual teams, the girls only had a couple of weeks to practice together.
After moving past the district-level tournament in Garner, they faced four teams during states in Franklin in late July to win the title game.
"It could not have been any better of an experience. There are kids who play all their life and don't get to pay in a state championship," says Chad O'Shields, assistant coach and a player's dad.
A state title, he says, also brings attention to the sport's programs in Wilmington and could help attract a state championship playoff to the Port City.
"That is a goal, to bring people from around the state here," he says.
– Vicky Janowski
Winstead Is New DSS director
The New Hanover County Department of Social Services (DSS) this summer named Michelle Winstead as its director.
Winstead had been interim director of DSS since February, after having joined the department as an assistant director last September.
"Her dedication to public service and passion for ensuring quality social services are just a couple of the factors the board considered in its decision to
hire Ms. Winstead," says Jonathan Barfield Jr., chairman of the county social services board and county commissioners.
DSS provides economic assistance to New Hanover County residents with basic subsistence needs, county
officials say.
– Zachery Eanes