September Spotlight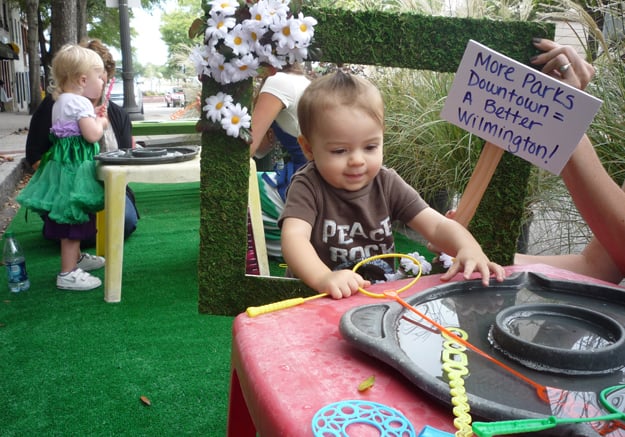 NOTE: The September issue included an incorrect date for the Molly Ringwald performance at Kenan Auditorium. She is scheduled to perform September 17.
Park(ing) Day Takes to the Streets
Port City residents can get a taste of the green lifestyle this month when Wilmington Downtown Inc. (WDI) hosts its version of the worldwide PROJECT PARK(ING) DAY This is the fourth year WDI has hosted the event, which highlights the need for more green spaces.
"There are so many great efforts going on to create more open spaces, but we see that there are even more opportunities to help create more green space around," says Clark Henry, a member of WDI's Dream Committee. "We want to raise awareness for those options."
From noon-6 p.m. on September 19, nine metered parking spaces, compared to last year's four, will be converted to mini parks in the street. The spaces each will focus on various themes and reflect ideas similar to those featured in last year's campaign such as sustainable food systems and agriculture, fitness and health, and renewable energy.
-Kaitlyn Russell
Ringwald Brings Jazz Tunes
Actress-turned-jazz singer MOLLY RINGWALD visits Wilmington this month with songs from her debut album.
"An Evening with Molly Ringwald" takes place at 7 p.m. September 17 at University of North Carolina Wilmington's Kenan Auditorium. Ringwald will performs songs from her album Except Sometimes, which was released earlier this year. Her appearance kicks off UNCW Presents' 2014-15 season.
Tickets range from $5 for students to $35 for the general public. For ticket information, call the Kenan box office (800) 732-3643.
-Vicky Janowski
'Rude Bitches' Returns
RUDE BITCHES MAKE ME TIRED, a stage production adapted from humorist CELIA RIVENBARK'S (center, above) book, proved so popular with audiences earlier this year, it's coming back this month, and to a larger stage.
The production initially ran with twelve sold-out shows in the spring at TheatreNOW, says TheatreNOW owner Alisa Harris.
"Immediately after the run, Zach Hanner, TheatreNOW's artistic director and play adapter, suggested we look at doing an encore show," she says.
For the September 18-20 return, the production moves to the Scottish Rite center, 1415 South 17th Street. For ticket information, go to theatrewilmington.com.
"The material is original and absolutely hysterical," Harris says. "The actresses are top notch, and Celia Rivenbark's wit could power a small country."
-Vicky Janowski
Kusek Named Chairman of CFPUA Board
Members of the Cape Fear Public Utility Authority elected PATRICIA KUSEK as the board's chairwoman.
Kusek's term lasts for one year with the potential to serve two additional one-year terms. She was appointed to the board in 2011 and succeeds Jim Quinn in the chairmanship. Quinn was elected vice chairman.
"CFPUA plays an essential role in our community; the authority's work is directly tied to our overall quality of life," Kusek says. "My goal is to help the organization move to the next level through comprehensive, long-range planning for the future."
In 2003, she founded the Kusek Financial Group. She previously held leadership roles in account and community relations management for Duke Energy.
-Vicky Janowski