September Look Book
Fashion-savvy people show off their unique styles.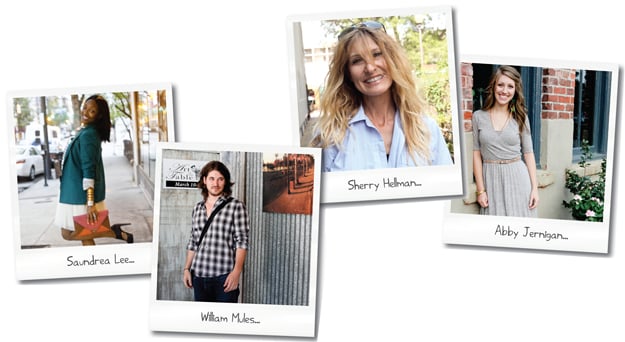 WALKING AROUND TOWN, you might notice those whose appearance stands out among the crowd. They're not boutique owners or designers – just fashion-savvy people with their own unique style.
Abby Jernigan is a freshman at Charleston Southern University and spent the summer in Wilmington with family. She loves anything vintage inspired, romantic, feminine and a bit whimsical. Her favorite accessory is a tiny glass bottle necklace containing a love note written by someone special.
Saundrea Lee is a human resource analyst for Verizon Wireless and is involved in theater and music on the side. Her motto is that there are no rules to fashion – she loves to throw prints and colors together that "break the rules." Her favorite accessories are bulky rings and bright nails.
Sherry Hellman is a mail carrier in downtown Wilmington for the United States Postal Service. She describes her style at Boho Hippie. The accessory she can't go without is her sunglasses.
William Mules is a bartender at The Fortunate Glass. He has picked up his own style from years of traveling around the world. His favorite accessory is his man bag – he hates having things in his pockets.