September Leadership Opportunities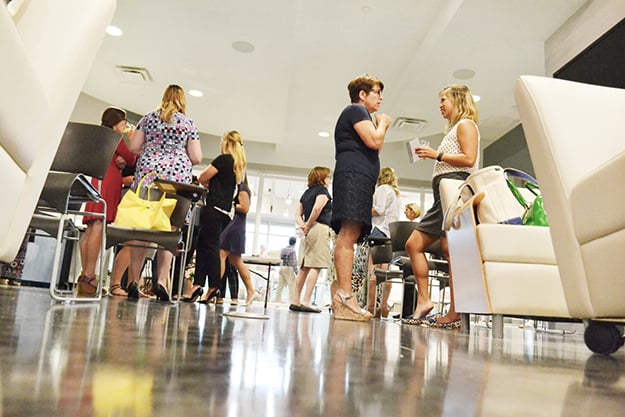 Looking to sharpen your skills? Make connections? Each month, WILMA will highlight upcoming business-related events in the area to help you track down ways to get involved as part of the Women to Watch Leadership Initiative.
September 6: tekMountain and Flatiron Law Group hold an event on VENTURE CAPITAL 5:30-8 p.m. at tekMountain. A panel talk features two venture capitalists from North Carolina – David Jones, general partner of Bull City Venture Partners, and John Cambier, managing partner of IDEA Fund Partners – as well as venture lawyer Conrad Everhard, founding partner of Flatiron Law. Click for more.
September 7: Attorney and author Frank Amoroso is the featured speaker at this month's INVESTORS ROUNDTABLE OF WILMINGTON noon-1:30 p.m. at Country Club of Landfall. RSVP to cliffbrock@ec.rr.com or 622-0019.
September 7: UNCW's CIE holds THE ENTREPRENEURS' ROUNDTABLE 4:30-7:30 p.m. The free event, hosted by The Hive & Co., features some of Wilmington and Jacksonville's veteran and military spouse business owners. The schedule includes a round of speed networking, a panel discussion. Click for more.
September 12: Today is the applications deadline for this year's HEALTH CARE HEROES, an awards program from the Greater Wilmington Business Journal to recognize health providers and volunteers in the area. Click for more.
September 15: UNCW's Swain Center offers Data Analytics certificate courses, including USING EXCEL WORKSHOPS this month. September 15's subject is on Pivot Tables and Visualization, while Power Query is the topic for September 22. Click for more.
September 19: The Business Journal's next POWER BREAKFAST is on several major, mixed-use developments proposed in the area, with a panel of speakers representing CenterPoint on Eastwood Road, The Avenue off Military Cutoff Road, and River Place in downtown Wilmington. The program is 7:30-9:45 a.m. at the Wilmington Convention Center. Click for more.
September 20: PORT CITY YOUNG PROFESSIONALS meets this month for networking 5:30-7:30 p.m. at Battle House Tactical Laser Tag, 1817 Hall Drive. Click for more.
September 20: The Wilmington Chamber of Commerce holds a FIRST RESPONDERS APPRECIATION BREAKFAST 8:30-10 a.m. at the Coastline Conference and Event Center. Click for more.
September 21: Professional speaker Lenny Laskowski leads a 90-minute program to MASTER THE ART OF PUBLIC SPEAKING 6-7:30 p.m. at UNCW's CIE. The workshop is free for CIE members and $15 for nonmembers. Click for more.
September 22: DETAIL SUMMIT, a two-day event September 22-23 bringing together area creatives such as designers, founders, and entrepreneurs, takes places at venues in downtown Wilmington. Plans include a talk on art and business, a market, and a fashion exhibit and party. Proceeds benefit Dreams of Wilmington. Click for more.
September 26: Cape Fear Women in Tech, formed in partnership between WILMA's Women to Watch Initiative and tekMountain, hosts an APP EXCHANGE talk for this month's meeting 5:30-7 p.m. at tekMountain. Members share their favorite apps and software that have been useful to them. Click for more.
September 29: Workshops for MENTEES and MENTORS also take place at UNCW's Swain Center this month. The mentee session is for participants looking to develop an effective mentoring network and to maximize high-quality relationships. The separate mentor session is for new or experienced mentors looking to polish their practices. Both take place 2-5 p.m., with a networking social after. Click for more on the mentee session and mentor session.