Runway Judges
September's Men's Room column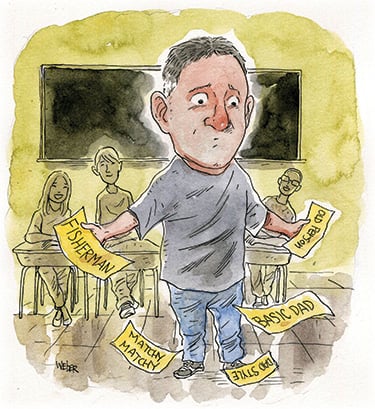 The trouble with style is that it's subjective and constantly changing. It's nearly impossible to get right and too easy to come off looking like a phony or a B-list pop singer. People notice style only when it's glamorous or disastrous.
And we have so many styles: classic, trendy, elegant, preppy, street, artsy, sporty, exotic, retro, bohemian, punk, grunge, business, casual, and business casual. If none of those fit, just call it eclectic.
I struggle to find a term that describes my own style. I suppose my closet of thrift-store button-down shirts and nondescript chinos makes some summary statement about me, but I have no idea what it is. Middle-age milquetoast? AARP chic? Nouveau clueless?
In pursuit of answers, I turned to a group of style-savvy young people – fifty high schoolers who were in town for a writing camp sponsored by my employer. I handed out slips of paper and asked the teenagers to jot down their impressions of my style.
"Turn around," they said. "We want to see the back."
I made a self-conscious, runway-model 360 rotation to show off my attire for the day: gray T-shirt, faded blue shorts, hiking shoes with ankle- high white sweat socks. The kids looked me over and went to work. Soon they handed in their evaluations.
The "dad" style.
A little matchy-matchy and boring.
Mr. Dad (invites everyone to a BBQ).
Dadcore.
Only now did I realize the mistake I'd made with this little exercise. Sure, I'd asked these young people for their honest opinions, but I hadn't expected them to be this honest and opinionated.
Dad bod.
Dad style. Fisherman. Bass Pro Shops. Discount member. Has three kids and loves football.
Dorky dad style.
I saw a pattern, and it wasn't pretty.
Mismatched grays.
Plain.
Old person.
You dress like my dad.
All of this raised two questions: What's gone wrong with today's teenagers? And what do people say about me out of earshot – that I'm colorblind, fashion ignorant, and far too enthusiastic about sports and parenting?
I don't have kids. I don't fish. I care nothing about football or grilling out. I assumed all that showed every time I hitched up my mismatched britches.
Why couldn't these teenagers see that I'm an authentic man who strides through his mature years clad in affordable and comfortable clothes that, all right, might need some ironing, but are still sensible and inoffensive? Couldn't they just call me eclectic?
Seahorse casual.
Weird, but at least it wasn't an insult. I think.
Funky style.
That one could go either way. I chose to see it as positive.
The reviews were not totally devastating.
Relaxed. Easy-going.
Casually proper.
I felt some relief.
Then there were those who seemed to be trying to be nice but still managed to crush my self-image.
Stylish. Justin Bieber who?
Hillbilly redneck, but it works.
Well, as long as it works, OK, I'll take it.
Tim Bass is coordinator of UNCW's bachelor of fine arts program in creative writing.
To view more of illustrator Mark Weber's work, go to markweberart.blogspot.com.
Want more WILMA? Click here to sign up for our WILMA newsletters and announcements.