Rove and Roam into Fall
Former NYC designer, Lesley Tamaev shares her inspiration behind the new Rove & Roam fall line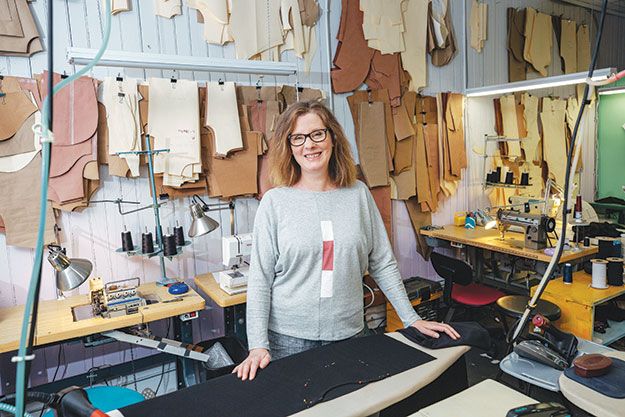 On a building's second floor at the foot of Market Street in downtown Wilmington sits the ROVE & ROAM design studio. In the open flat atop Edge of Urge, hundreds of hand-cut patterns cascade the walls, hand-drawn sketches span across a giant cutting table, and a rack of newly tagged clothing is spotted off to the side: Rove & Roam's fall line.
"No one has seen it yet," says LESLEY TAMAEV , Rove & Roam's owner, designer, and creator.
She's flanked by sewing machines. She has six. It was her grandmother, a dressmaker, who taught Tamaev to sew when she was thirteen years old growing up in Ireland.
"My grandmother had about a hundred-year-old Singer sewing machine – the treadle one – and she taught me how to use it. I think I made a nightdress or something and thought it was wonderful," laughs Tamaev.
By the time she was twenty-five, Tamaev had her own label in Manchester, England called Freak Show, catering to the flourishing Hacienda nightclub scene.
"I was making all these crazy clothes for people to go clubbing in, completely different from what I'm doing now," Tamaev says.
By thirty, she was working as a designer in New York City for places such as Jones New York, DKNY, and Ralph Lauren, to name a few. It was there she met Sergey, originally from Russia. Neither could speak the other's language at the time, but love prevailed, and the two wed. Lesley became design director for Ralph Lauren; Sergey worked in theater.
Then, a weekend getaway to Wilmington changed it all.
The Tamaevs quit their dream jobs, left the Big Apple behind, and moved to the Port City in 2007.
Today, Lesley is back to creating her own aesthetic with Rove & Roam, which she and Sergey launched three years ago.
The label is sold in indie boutiques all across the U.S., including closer to home at The Sail Shop at Bald Head Island.
In Wilmington, Rove & Roam is exclusively sold at Edge of Urge, garnering a following at both Wilmington and Raleigh Edge of Urge stores.
"Each location has a different vibe and customer, yet Rove & Roam remains at the top in both. Once our customers try her work on, they are hooked," says Edge of Urge owner Jessie Williams. "We have customers who come back to us again and again to see what is new … or if they can buy another in the same color because they love it so much."
Lesley describes her Rove & Roam designs as "classic but fun," pulling from the past and looking to the future – "a retro-inspired, vintage sourced, modern iteration of womenswear."
"We are not a fast-fashion brand and have spent time developing styles that fit well and that you will want to have in your closet for years to come," she says.
A stickler about fabric, she only uses the highest-quality organics and high-end synthetics to ensure a fabulous fit. "Lesley is a master at fit," Williams says. "She designs for real human beings. Her looks are timeless, effortless, flattering, comfortable, and very approachable in price."
The fall line debuting this month caters to the milder winters of the South. Instead of wool and sweater knits, lighter-weight cotton and French terry materials are used.
Mix-and-match separates include drawstring linen pants, striped tops, and cozy sweatshirts plus the Rove & Roam signature swing dress.
"We have sold that dress with short sleeves, no sleeves, with different necklines, with three-quarter sleeves. Every year, I do a different version of it, and I have a bunch of people I know are going to buy it. It just always sells," Lesley says.

Left and right photos by Meaghan Forbes c/o Rove & Roam
Get the Morgan Shorts, Williams advises.
"I wear them year-round," she says. "They fit like no other short I've ever worn – super flattering, comfortable without sacrificing style."
Every piece of Rove & Roam clothing is made in the studio by Lesley with the help of Sergey and freelancers during high-volume months, making Rove & Roam a cut above the rest.
"I believe there is a strong makers movement in the USA that is dedicated to making quality over quantity products and that customers are becoming more discerning when it comes to the origin of the goods they buy," Lesley says.
See the entire Rove & Roam fall line at roveandroam.com  or on Instagram.
To view more of photographer Megan Dietz's work, go to megandeitz.com.
Want more WILMA? Click here to sign up for our WILMA newsletters and announcements.