Round 'n round: Cape Fear Contra Dancers get down
A look into the art - and fun - of Contra Dancing.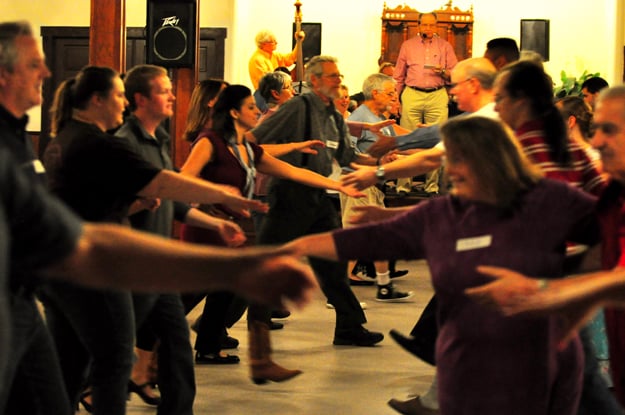 The 5th Avenue United Methodist Church was heating up for the bi-monthly contra dance, a type of dance based on English, Irish and Scottish country dancing. This Tuesday night, the band was warming up and dancers were pairing off and assembling into two long lines. After paying the $4 donation, I joined the group: an intergenerational mix of folks who smiled graciously and did not groan when the caller took time to explain the pattern of the first dance to us newcomers.
There was much to learn: the do-si-do, the allemande and the lady chain – a move wherein two ladies swing each other into the arms of their own dance partners. At a contra dance, you are encouraged to switch partners for each new dance and within a dance, you will cross and spin and potentially flirt with every person in the room. That's how the Cape Fear Contra Dancers get down.
Once we had sweat and spun our way through the first dance, a man wearing rainbow suspenders asked me to dance. He taught me how to swing – a fundamental move in which the woman is swung around the steady fulcrum of the man.
"Keep your eyes on mine and you won't get dizzy," my dance partner advised. He was right, and the motion made me feel like a girl in a movie set in the 19th century, locking eyes with one person while the rest of the room whirled by in an ecstatic smear.
The contra dance swing is an American invention that joined the hybrid English and French country dance moves of the 18th century in the New World. The swing was America's greatest contribution to country dancing, according to contra scholar Heiner Fischle. He believes the move helped keep contra dancing alive in America, while country dancing in Europe largely fell out of fashion.
I wondered when the last time I interacted with so many people I had just met, through dancing – spinning and smiling and weaving patterns around the room – maybe never. Was this a relic of a more wholesome America? I thought I would sit down, take some notes and ponder it. But then, the music started back up and a young man asked me to dance. I took his hand and got woven back in.
Cape Fear Contra Dancers meet the 2nd and 4th Tuesdays every month from 7:30 to 9:30 p.m. at the 5th Avenue United Methodist Church located at 409 S. 5th Street. $4 donation collected at the door. For more info, visit: www.wilmingtoncontradance.info