Rolling With It
Amplify brings a rocking attitude to workouts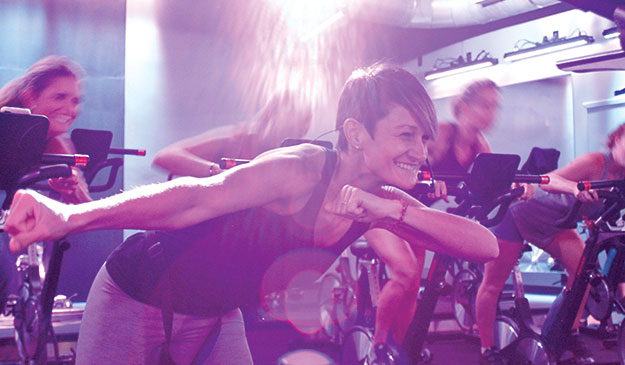 Sweat, bikes, and rock 'n' roll – with a whole lot of heart."
That's how AMPLIFLY CYCLE AND STRENGTH co-owner and class instructor ALI NYQUIST describes her unique fitness studio in a nutshell.
But crack the casing open, and Nyquist's summation goes far deeper. Amplifly, she explains, is more than a fresh take on fitness. It's about engagement and creating a community.
"The studio culture we have at Amplifly is really special to me, so I spend a great deal of my day protecting it," says Nyquist, whose studio opened in the spring and is located in Sugarwood Center at 165 Porters Neck Road. "One heart, one beat – that's Amplifly Cycle and Strength."
A veteran fitness instructor, former Lululemon running ambassador who helped coach the athletic apparel retailer's community run club, triathlete, and more, Nyquist cultivates a communal experience by incorporating some key elements.
One of those is her distinctive staff dubbed The Flysquad.
"We hired a fantastic team of instructors and trainers, so a killer workout is a given. But, heart is one thing you can't train your instructors to have. It's a special gift they were all born with, and my goal is for every member to feel that as soon as they walk through our doors," says Nyquist, who recently moved to the area from California with her husband, Ryan, a professional freestyle BMX rider.
A five-year dream in the making for Ali Nyquist, the mom of three boys also carefully curated the gym's electrifying vibe. Step inside, and you'll find an immersive atmosphere shaped by inspiring group classes, captivating lighting, and larger-than-life portraits of iconic musicians on the walls.
Then, there's the force that fuels it all: the music.
Music not only drives the classes – which include non-traditional indoor cycling, circuit and strength training, yoga, and Pilates – it crafts them. Music is one of her passions, Ali Nyquist says, and it has the innate ability to bring people together.
"When you stop and look around (at a concert), people are having a great time, moving to the beat as one, dancing like no one is watching. And, that's exactly the vibe I wanted to bring to Amplifly," says Ali Nyquist, who started her first fitness studio in Greenville. "I want people to feel comfortable and safe in our studio so they can step out of their comfort zone.
"And, regardless of whether they are cycling or taking a yoga class, they get a full sensory experience that leaves them feeling like they were a part of a big shared experience."
Later this year, Amplifly's collective experiences are set to grow. The studio plans to add heated classes, plus a café.
The expansion includes upfitting a unit next door with radiant heaters to allow Amplifly instructors to hold the heated classes (Temperatures will be set between 76 degrees and 85 degrees).
"AmpliFIRE" classes, as they'll be called, will include yoga, barre, and Pilates.
Meanwhile, Nourishment Cafe is slated to open soon. There, a variety of healthy fare will be available, from acai bowls and electrolyte snow cones, to smoothies and cold brew coffee.
"Amplifly members will have the option to place orders before class so they can quickly take their items as they are leaving their sweaty workout," Ali Nyquist says. "We are hoping to finish the upfit of the unit next door in time for the holidays this fall and winter."
While her vision for the gym continues to progress, she did so personally in the opening process. Self-assurance was an unexpected benefit of realizing her dream.
"Prior to opening, I was really nervous about my leadership skills. I knew from my days of teaching PE, that I could lead a class of kindergarteners – but adults? Totally different story," she quips. "It certainly helps to have a spectacular staff, but I think I've done a pretty good job handling our hiccups with grit and grace."
With the bumps of opening behind her, Nyquist and her family continue settling into their new hometown. No strangers to the East Coast – Ali and Ryan met in Eastern North Carolina before moving out West – Nyquist says the South has always held a place in the couple's hearts.
Meanwhile, Ali Nyquist and her team continue to rock Amplifly Cycle and Strength attendees through their workouts. After all, she says, it's their signature style and the studio's flair that sets it apart.
"You have to come in (to) feel it for yourself," she says. "It's the difference between hearing your favorite song on the radio and hearing it live in a concert."
To view more of photographer Amy Conry Davis' work, go to www.gypsypye.com
Want more WILMA? Click here to sign up for our WILMA newsletters and announcements.