Rolling Trivia
Where brains meet aims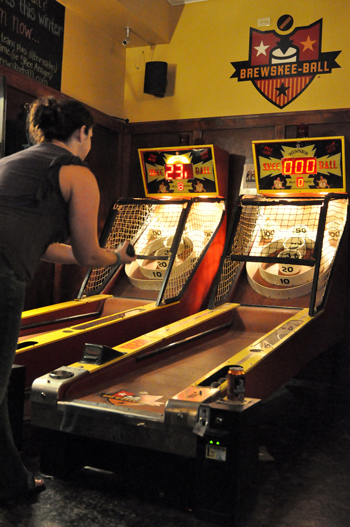 Staring down the narrow chute, MELISSA STONE sets her gaze on the bullseye of rings ahead.
It's her last shot of the final round, and after fielding three rounds of questions, her team is down by 68 points. Winding her arm, she releases the ball, rolling it towards the scoreboard. The ball curves to the side, dropping in the coveted 100 slot. Spinning to her cheering teammates, Stone throws her arms in the air in victory. Her high-scoring roll is the push they need to win the game – by a mere two points.
This all on her first night at Rolling Trivia.
There are plenty of bars in town that host a trivia night, but Five Star Tavern also incorporates skee-ball into the action. The pub took the standard trivia formula and turned it on its head, combining the mental vigor of trivia with the unpredictability of skee-ball.
ADRIAN VARNAM, owner and operator of FIVE STAR TAVERN, developed a version of Rolling Trivia with film professor James Kreul through trial and error for weeks before striking a balanced combination of the two games.
When Varnam opened Five Star Tavern in September of 2011, they found themselves with the perfect venue to host Rolling Trivia on a regular basis. Every Thursday, the competition has a special theme that questions revolve around, with a sprinkling of current events.
"Walking down Second Street one night, we saw the skee-ball machines and immediately knew we wanted to come here. We checked out their trivia night and have been coming every week since," Sara Lewis said. "The bartenders and Adrian make everyone feel really welcome – they come around and talk to everyone during the night."
The cozy atmosphere is livened by music playing throughout the game, with songs that conjure bursts of nostalgia. The second round is made up completely of audio clips – from movies, composers, theme songs and comedians. Between each round, the sounds of the skee-ball machine fill the air as competitors take aim to add points to their scores, taking advantage of the free skee-ball offered at the bar Thursdays after 7:30 p.m.
The night leads up to the final round when dramatic turns can happen, changing the outcome of the game. Each team has nine balls to roll – nine chances to get the most points as possible. Each score is wagered before the final questions are asked, similar to Final Jeopardy!
"Going into the last round, anyone can win," Varnam said. "I've seen teams go from 5th to 1st and teams from first to last. It's very dynamic and very exciting."
Rolling Trivia takes place at 8 p.m. Thursdays at Five Star Tavern, 106 N. 2nd St.
To view more of photographer Bryce Lafoon's work, click here.