Rolling in the Dough
Finding the way back to baking bliss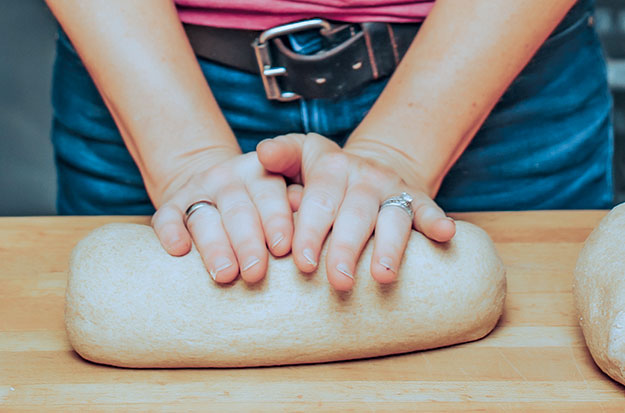 When JODIE HAWTHORNE bought the GREAT HARVEST BREAD CO. on Oleander Avenue with her husband, Eric, it was the sudden culmination of a mental plan that had been forming for years. In her youth in Charlotte, Hawthorne had worked at a bakery and catering company, then spent the next decade working in corporate offices. Sitting at a cubicle. Looking at spreadsheets.
"I felt like I wanted to get back into the baking world or at least out from under a desk," Hawthorne says. "We approached Great Harvest about opening a franchise, and that's when they let us know this one here in Wilmington was for sale. All of a sudden, what was at first a five-year, ten-year plan became a right-now plan. Pick up, move to Wilmington, and give it a go."
Requisite stars aligned; Hawthorne and her husband lived out the dream. They relocated, bought an old house to fix up, and Hawthorne went from doodling on conference calls to getting up at 5 a.m. every morning.
Nobody has ever claimed that owning a bakery is easy, but even just knowing that doesn't quite prepare you for how hard it actually is.
"It's definitely scary. It's a complete 180, as far as what my life is now. I spend my day on my feet, which I love, because I'm not sitting at a computer," Hawthorne says. "The comradery in the kitchen and baking with my crew, getting to know all the customers who come in every week. And, I know their order now. I hear them on the phone, and I know so and so wants their two Dakota rounds ready. You become part of the community when you own a business in a way that I hadn't been before."
The previous owner, John Palmer, ran the beloved bakery for almost twenty- five years before handing the reins to Hawthorne. And, for the most part, Hawthorne has kept many of the recipes the same. However, she has added her own distinct touches to the cozy little place, with sandwiches and salads now available, catering, and a lot more sugary treats.
"I'm a sweets person," Hawthorne says laughing. "I think I was about ten the first time I baked a pie. I told my mom I wanted pie for dinner, and she was like, 'okay, here's the recipe.'"
One of the things that sets Great Harvest apart is its insistence that all ingredients be as whole and fresh as possible, starting with wheat berries they mill every morning on-site to make their flour.
"We make it all from scratch. It's whole ingredients every morning. We don't use mixes, and in particular our bread. Our whole wheat bread is five ingredients: wheat that we've milled in our bakery, which is the extent of the processing, and then we have yeast, honey, water, and salt, and that's it. It really sets us apart, that we're not using preservatives or additives," Hawthorne says.
With the holiday season starting, expect to see Hawthorne around town with the inevitable flour muss, smelling of cinnamon. Last year, only a few months after Hawthorne took over, the bakery made over 300 of its Cinnamon Swirl breads, a bread Hawthorne describes as basically a cinnamon roll the size of a dinner plate.
They also made hundreds of loaves of Stuffing Bread, another perennial favorite that is bread with onion, celery, and thyme baked in. And, then there's the hundreds of other orders for pies, cookies, and breads. It's all hands on deck in the small kitchen, with family, friends, and returning employees all helping out.
But, despite last holiday season being a true trial by fire for the new business owner, Hawthorne is happy, grateful, girded for this year, and loving the new narrative of her life. But, she laughs at the idea that she's living out a kind of movie dream: Move to the beach, buy a bakery.
"I don't know, Nicholas Sparks movies, I feel like they have a lot more free time. There's a lot more leisurely strolling on the beach," she says. "It has been a curve. It's more work than I ever dreamed it would be, and I dreamed it would be a lot. But, I really love making things for other people.
"There's something about baking that I love where you get everything right," she adds. "You hope, and you cross your fingers, put it in the oven, and whatever comes out comes out. When you get it right, that's very satisfying to me."
To view more of photographer TJ Drechsel's work, go to tjdrechselphotography.com.
Want more WILMA? Click here to sign up for our WILMA newsletters and announcements.