Robots Showdown
Local robotics team heading to national competition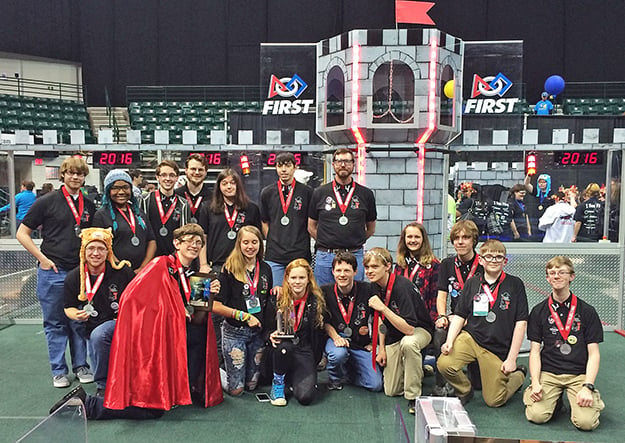 The Wired Wizards FIRST robotics team is a group of local high school students who build and program robots, and they recently secured a spot at the robotics championship in April.
The Wired Wizards won the prestigious Engineering Inspiration Award earlier in the year as well, which celebrates outstanding success in advancing respect and appreciation for engineering within a team's school and community, according to the FIRST company website.
After winning the Engineering Inspiration Award, the Wizards were able to obtain a spot to compete at the FIRST Championship event in St. Louis April 27-30, according to a news release.
The robotics team will compete with over 900 teams from around the world, and the competition will be a once-in-a-lifetime opportunity for the local robotics team students, says Hannah Wilson, mentor and alumna of the Wired Wizards.
High school robotics is a unique opportunity in which high schoolers design and build a 120-pound robot and compete with more than thirty other teams at regional competitions, Wilson says.
The Wired Wizards was created by the University of North Carolina Wilmington student chapter of ACM (Association for Computing Machinery) at the end of 2012. It is a community-based team consisting of boys and girls from public high schools in New Hanover County, as well as boys and girls who are homeschooled, according to the Wired Wizards website.
"Organizations like the Wired Wizards sow the seeds for a technology-loving young generation that will mark Wilmington as a tech hub," Wilson says.
After gaining the opportunity to attend the contest in St. Louis for the FIRST Robotics Competition, the Wired Wizards' season budget increased drastically. To attend, the team had to raise $15,000 leading up to the competition and made some headway but still has a ways to go. As of April 18, the group had raised $8,000 toward their goal.
The Wired Wizards is asking for tax-deductible donations from the community to reach the travel goal. Donations can be sent to the Port City Robotics address at 803 S. College Road, Suite G, or sent in on the Wizards' website.