Rising Through the Ranks
Rhonda Smith on being county's first female chief deputy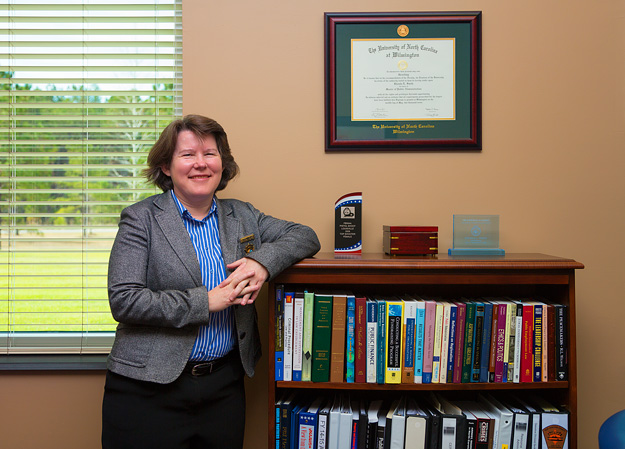 When they put on their badge, law enforcement officers take a selfless oath to serve and protect their community. The woman who's second in command at the New Hanover County Sheriff's Office feels it's crucial her deputies also possess another trait. CHIEF DEPUTY RHONDA SMITH teaches them to have empathy for the residents they serve.
"You have to develop that care and compassionate entity part of you. I've had conversations with some of the supervisors, and some of the people and say, 'Everything may be perfect in your world, but it's not in a lot of other people's,'" Smith explains. "It doesn't hurt you to go that extra mile to help somebody."
Smith's passion for helping others is what led her to a career in law enforcement. While she initially embarked on a different path in college, she quickly realized she would be far happier getting a degree in criminal justice.
"I started off in college with a computer science major and walked out of class the first day and said, 'This is not for me. Let me pick something else that's more suited to me,'" Smith recalls. "I wanted a job that would make a difference, to be able to help people."
After graduating from Chaminade University of Honolulu, Smith spent three years as a police officer in Honolulu, which is where her husband was stationed with the Navy. When her husband was transferred to Wilmington in 1990, she applied at the NHC Sheriff's Office. Within three days, she was hired and never looked back.
Smith worked her way through the ranks at the sheriff's office. She started off as a deputy working the front desk, then become a bailiff in court, and later worked as a vice and narcotics detective. Experiencing the different positions helps Smith better relate to other members of the sheriff's office, she says.
"You've been in their shoes, you've done that, working patrol, working the street, working in vice narcotics. You've worked those areas, so you have a better perspective because you've walked in their shoes," she says.
Five years ago, Smith received the biggest promotion of her career. The sheriff appointed her chief deputy. She's the first woman to ever hold that high-ranking position in New Hanover County, officials said. Now Smith handles the day-to-day operations and budget responsibilities of the sheriff's office.
"I still end up helping people, but it's more, instead of the day-to-day contact with the citizens, it's more making sure our deputies have the vests that they need so that they're safe, making sure that they have the equipment that they need so that they're safe out there," Smith says.
While Smith is humble about her career accomplishments, sheriff's office Lieutenant Jerry Brewer says everyone who works for Smith notices that she doesn't let anything stand in the way of accomplishing her goals.
"I can't stress how much a pleasure it is to work for her but also to look up to her and how driven (she is) and how it should be done," says Brewer, the public information officer for the sheriff's office.
This year, Smith was elected president of the FBI National Academy Associates North Carolina Chapter. She says she is proud to see more women in law enforcement now than ever before in New Hanover County, North Carolina, and across the country. She hopes to send a positive message to young girls considering a career in the industry and motivate them by example.
"The doors are there, the opportunities are there. It's a great job – challenging, but also hugely rewarding. And if they can do it, yes it is a male-dominated field, but there's room for you there also," Smith says.
Smith plans to retire in December with a thirty-year law enforcement career under her belt. She will move to a large farm in Georgia where she'll help her father, who is experiencing health issues. Smith also looks forward to serving a new community through volunteer and church mission work.
"If I can make a difference in somebody's life, it might not be in law enforcement," she says, "but I still want to make a difference and help people."
To view more of photographer Chris Brehmer's work, go to www.chrisbrehmerphotography.com/