Riding the Waves
The Wrightsville Beach Wahine Classic draws female surfers from around the region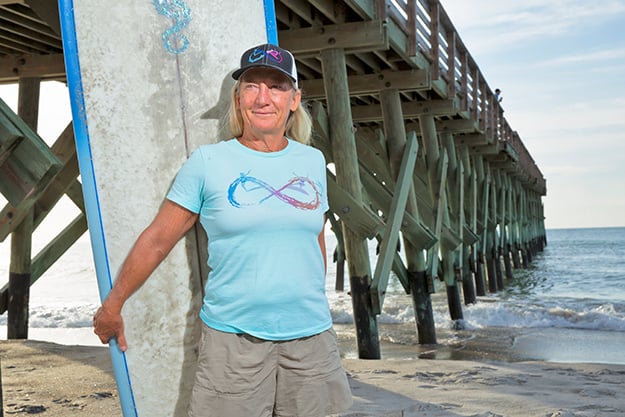 Editor's note: This version corrects details about when the Wrightsville Beach Wahine Classic began, which was in 2013, and adds info about a separate all-female surfer competition held previously.
JO PICKETT has conquered far more than waves in her forty-five years of surfing experience.
As founder of Crystal South Surf Camp, she leads novice and experienced surfers alike through customized lessons, summer surf camps, and international surfing expeditions that allow Pickett and her pupils to fine-tune their skills in various exotic locations.
"I wanted to develop surfers," Pickett says of her simple dream as founder of Crystal South, which began in 1996.
Since its creation, Crystal South has afforded countless surfers opportunities to study surfing, practice with professionals, explore surf capitals in other countries, and participate in competitions. Pickett's surf fitness program is complimented by her yoga expertise, which enables students to strengthen their physical capabilities while learning surf etiquette and ocean awareness.
"Surfing and yoga have many parallels: finding your edge, practicing daily, choosing postures that improve your surfing and realign your structure so that you move effectively," Pickett explains. "The concepts of stabilization, mobilization, and sequencing of large and small muscle groups, switching on muscles that have switched off, honing reflexes, dynamic balance, and transverse motion are integral to a satisfying practice."
When traveling to surf destinations like Hawaii, Costa Rica, El Salvador, Nicaragua, and Puerto Rico, Pickett leads students through skill development as well as cultural and environmental exploration.
"When I guide surf trips to other countries, my students develop skills that extend beyond surfing," Pickett says. "Experiencing different cultures, speaking and hearing different languages, and surfing with people from all over the globe, we gain a broader perspective of this wonderful world that we share with people of the countries that we are visiting."
One of Crystal Surf's unique achievements is the annual Wrightsville Beach Wahine Classic competition, which provides female surfers ages two to sixty-five the chance to participate and earn money doing what they love.
This year, the contest takes place August 19-21 and draws female surfers from other states as one of only a handful of women's surfing events on the East Coast, according to organizers.
"It was created to support the girls' self-esteem and give them something that's just their own," Pickett says of the competition.
The Wrightsville Beach Wahine Classic started in 2013. A separate all-female surfing event, the East Coast Wahine Championships, ran from 1997 to 2011.
The first Wrightsville Beach Wahine Classic was held in 1997, only a year after Crystal South began. With over a hundred participants and more than three hundred spectators, the event creates a thriving occasion for competition and entertainment.
When she's not exploring exotic waters or hosting competitions, Pickett enjoys teaching her students through private and group sessions. Some of her apprentices are now pro surfers, and many continue learning from Pickett for several years. She writes occasionally for Local-Sessions surf magazine whenever her expert knowledge is requested.
"When a wave knocks us down, we get back up. When life knocks us down, we get back up," Pickett says. "All life's problems we learn in the ocean – frustration, patience, discipline, fear management."
To view more of photographer Chris Brehmer's work, go to www.chrisbrehmerphotography.com