Reunited
How two local couples met, fell in love as teenagers split up and over 20 years later - after many twists and turns- their paths crossed again.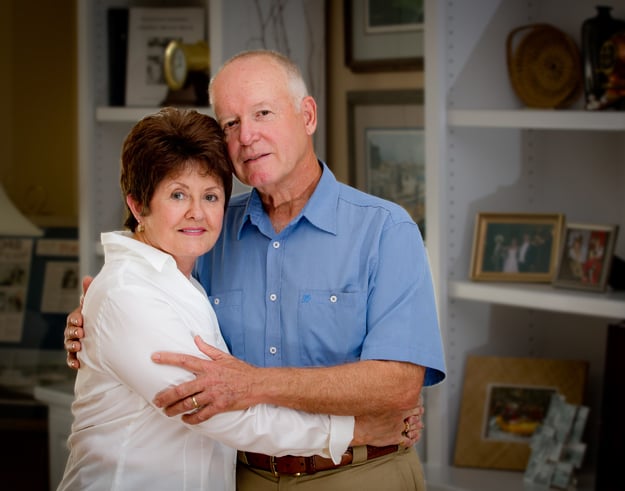 Active retirees from Southport, Jeanne and Robert Potter are newlyweds celebrating their sixth year together. But, about 50 years ago they were driven to the movies by their parents as teenage sweethearts in Southport.
At that time, they parted ways when Robert joined the Navy after high school. Jeanne was devastated, she said. Robert later married another woman, had two children and enjoyed a successful career piloting ships and submarines up and down the east coast for the Department of Defense. Jeanne married, divorcing early. She spent her career as a nurse at Duke University for over 20 years and eventually moved to Florida. After Robert lost his wife of 34 years in 2001, he began searching for Jeanne.
He found her on the Internet and called her. In their first conversation, she said, "You broke my heart." But, after that it was as though they just picked up where they had left off, she said.
When they first met again, she was surprised to see that his hair was gray and he had a beard. But when the two took a walk after dinner, their hands linked and the rest is history.
The two got married in North Carolina. As neither of them had large weddings the first time around, theirs was a huge gala.
Diamonds are forever
Karen Hellrich never dreamed there would be a second time around for her and her high school sweetheart, Bill Ebersbach. They met at a summer camp in 1964. He was a 17-year-old camp counselor and Karen, who was 14, was a volunteer. She had eyes you could not forget, he said.
He began writing her letters on his first stint in the U.S. Marine Corps while stationed at Paris Island, South Carolina. They had a chaperone on their first date, as ordered by Karen's mother. They dated until January 1965, when Bill left for his first tour of duty to Vietnam.
While he was overseas, Karen attended college. They continued to write to each other frequently.
In 1967, when Bill came home on leave, he "pinned" Karen. Before he left for his second tour of Vietnam, he bought a ring and surprised Karen by proposing.
Karen transferred to Columbia University to attend nursing school, where she cared for several wounded and maimed veterans. Moved by the physical and emotional trauma these young men had suffered, she began worrying about marrying a soldier in combat. One day, Bill was shocked to open a letter from Karen calling off the wedding.
Bill married someone else in 1972. That marriage lasted seven years, ending in divorce. By now, Karen was living in Denver, Colo., working as a nurse.
In 1980, Bill called Karen in Denver and went to see her. They decided that they belonged together. It was not long until they began planning their wedding.
Over 30 years later, the couple is happily married. The diamond that Karen returned to Bill the first time is set in his wedding band.