Restaurant Crawls
Downtown Wilmington food tour changes hands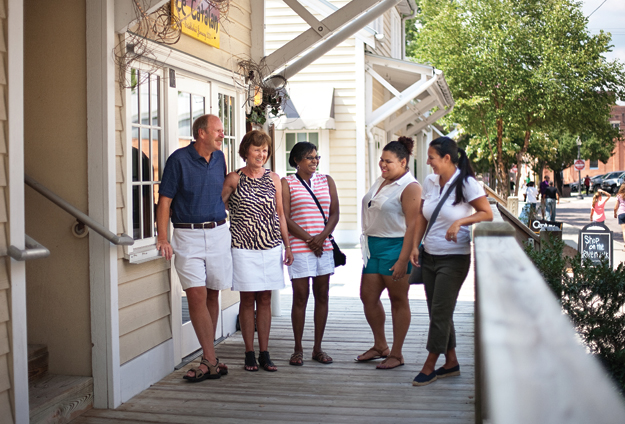 There are over seventy places in downtown Wilmington to find food and drink. So the city is a natural fit for TASTE CAROLINA GOURMET FOOD TOURS. But when owner LESLEY STRACKS-MULLEN looked into the Wilmington scene a few years ago, she discovered there was already a popular food tour on the go – Culinary Adventures with Liz Biro.
"Her tour looked amazing, and I thought, 'She's doing a great job, I don't need to try to follow that," Stracks-Mullem says.
With Biro's recent move from the area, the two's paths intersected with the passing of the food tour torch and the launch of Taste Carolina's presence in the Port City.
Taste Carolina came into being after Stracks-Mullem received her MBA from University of North Carolina at Chapel Hill in 2008 partially thanks to the recession.
"That fall I was sending out resumes and not getting any responses," she says, adding that she got the idea for the company after a visit from family. "I had family come into town who were big foodies, so I wanted them to eat as much as possible in a short period of time."
Day one was an appetizer and wine tour.
"The second day was a very elaborate barbecue tour where we went to seven restaurants in six hours," she says. "And it was fun to do, but it was equally fun to plan because I had maps and the 4-1-1 on all these places."
That trip got Stracks-Mullem's wheels turning.
"I started thinking maybe there was a market for food tours. I started doing research and found that they existed all over the country – but only in the big cities. And now they're in every city, big and small," Stracks-Mullem says.
The business took off and eventually expanded to include Raleigh, Durham, Chapel Hill/Carrboro, Hillsborough, Greensboro, and Winston-Salem. But Wilmington was still on Stracks-Mullem's wishlist.
As it turns out, Biro had been inspired to start her business after seeing how Taste Carolina did things. Though also a food lover, Biro's journey to food tour guide differed from Stracks-Mullem's.
Since 2004 Biro had been a food writer and restaurant reviewer in Wilmington.
"Over the course of that time I got to know a lot about (the restaurant) scene – a lot about what was happening in the kitchens," Biro says. "I was talking to the chefs, to the owners. So I was in and out of the kitchens quite a bit, and there were a million stories to be told. And oftentimes as I was leaving, I would think that diners would come in and they would eat and they never had any contact with the people behind the food – whether it was the guy who prepped the potatoes, or the gal who seared the steak, or the owner who invested his retirement fortune to open his dream restaurant."
So when the recession hit the food scene, Biro wanted to do something to help the people who'd done so much for her.
"These restaurants had shared so many of their stories with me. Without them I would not have been a food writer had they not taken the time to share stories with me," she says.
The first tour of Culinary Adventures with Liz Biro happened Memorial Day weekend 2010. And they weren't exactly a hot property.
"When I first started the tours I literally could not give them away. People didn't understand," Biro says.
It turned out she wasn't looking for customers in the right place. Once she started advertising outside Wilmington, interest began to grow.
"Everyone who came on the tour loved it," she says. "I did a survey once about what people liked best on the tour. The one thing that stuck in their mind was the stories they heard and the people that they met."
Biro was a fan of Taste Carolina tours, so when she was ready to sell Culinary Adventures to move to Indianapolis to be the food writer for The Indianapolis Star newspaper, Stracks-Mullem was the first person on Biro's list.
And Stracks-Mullem was more than happy to step in, taking over the regular tours and planning to add more in the future.
"The food is really diverse," Stracks-Mullem says about the Wilmington scene. "There's not one particular cuisine. It's from French to Greek to farm-to-table. And I enjoy how collaborative the chefs are."
Taste Carolina Gourmet Food Tours
Saturday tours include a farmers market tour and cooking class, downtown tasting tour, and dinner and drinks tour.
Info: tastecarolina.net/wilmington
Tasting History
Another local food tour is Tasting History Tours of Pleasure Island, which covers Carolina Beach, Kure Beach, and Fort Fisher. Tours are on various days.
Info: tastinghistorytours.com
To view more of photographer Terah Wilson's work, visit timelessfotographie.com/blog/about.