Rescue Me
Local animal centers care for exotic animals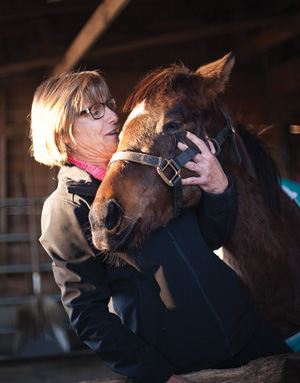 It takes a certain kind of person to dedicate themselves to the rehabilitation of animals.
Not only is there constant clean up and daily basic care, but one must be ready to open their arms to new animals in need at a moment's notice.
Whether it is wildlife rehabilitation caring for sick, injured, and orphaned wild animals so they can ultimately return to their natural habitat, or the goal is domestic rehabilitation, there is no shortage of animals in need of TLC.
In wildlife rehabilitation, animals are held in captivity only until they are able to live independently in the wild. It is often a long and time-consuming process.
Sometimes animals that have recovered from injuries are still not able to survive in the wild, so they instead serve educational purposes.
Below are three people and their organizations putting in that level of dedication and care to help animals whether from the farm, air, or sea.
Poplar Grove Animal Sanctuary
KITTY WORTHINGTON and the team at POPLAR GROVE ANIMAL SANCTUARY started off with a dream: to have a place where children could visit animals. The more they talked, the more they realized the value of creating a sanctuary.
"People were constantly calling and asking us if we could take certain animals," Worthington says. "I never said no to any animal. I took each and every one of them in with open arms."
They decided to contact the United States Equine Rescue League to let it be known that they would take in equine rescues.
The first horse they got was Bonnie in May 2013. She passed away a short time later. The experience was a rocky start to opening the sanctuary, but Worthington pushed on.
"That was my first involvement with equine, and with that happening, I wasn't sure I could do it again," Worthington says. "I looked up the true word of a sanctuary in the Webster's dictionary and learned it is a place for a person or animal to come to whether they live out the rest of their lives or not … a place to make life more pleasant for them."
Looking at the horses now at the sanctuary, located at Poplar Grove Plantation, you would not know what they go through to get here.
"Every single one of them we've been able to nurture, get their weight on, and bring them back onto their livelihood," Worthington says.
The sanctuary expects to receive more horses this spring, a time when many people realize they can no longer care for their horses after the long winter. There is nothing on the books that says you have to feed, provide shelter, or vaccinate a horse, as long as they have a pasture, according to Worthington. Rescues are needed because of the lack of laws to support horses, she says.
One of the sanctuary's horses, Dollar, came out of Pender County, starved and with barbed wire markings. He now has a sweet temperament and can wear a saddle. Having to redevelop trust with mankind has not been an easy thing for many of the animals.
"I get very irritated and mad, but it's the same thing that drives my passion to keep this going and keep people aware of what goes on in their backyards – whether they know it or not," Worthington says.
The sanctuary also has peacocks, geese, ducks, chickens, pigs, sheep, mule, a cow, cats, and even a llama and alpaca.
"I've never had a job where every morning I look forward to coming to work. I know that each one of them is going to do something to brighten my day," Worthington says.
Worthington hopes to do daily tours year-round, which is her goal when the sanctuary reopens in March.
The facility is able to run thanks to its dedicated volunteer program and does school tours and public events throughout the warmer months during which children get to intermix with the animals firsthand.
"They love it, and the animals love interacting with them, too." Worthington says. "It's great for both of them."
Cape Fear Raptor Center
JONI GNYP saw a need for a local raptor center and worked to make it happen.
"With being a licensed falconer, I naturally had a huge interest in raptors," Gnyp says.
Gnyp works as veterinarian at Rocky Point Animal Hospital, which she founded alongside her husband, Martin, in 2006. She had the license to work on a lot of animals but not to keep and rehabilitate raptors.
That's what started the journey to develop the CAPE FEAR RAPTOR CENTER.
"There was no local person that could do it," Gnyp says.
Dave Scott at the Carolina Raptor Center in Huntersville encouraged Gnyp to develop the local center, as he saw a growing need for raptor treatment in southeastern North Carolina.
The Cape Fear Raptor Center is a nonprofit treatment center for injured and sick birds of prey. "Our mission is to rehabilitate raptors and release them back into their natural habitat. We also want to educate people in the local area and in the southeastern corridor about the importance of these birds, so they can continue to have them for generations to come," Gnyp says.
The center is now fundraising with plans to build a freestanding building as an education center. It already accepts school and group tours of the facility and participates in several educational events throughout the year.
Birds that are unable to be released back into the wild become educational birds, such as Pip and Squeak, two small eastern screech owls who developed cataracts due to malnutrition. Other raptors at the center include vultures, falcons, hawks, kites, and even bald eagles.
"I have worked with Dr. Joni for four years," Veterinary Technician Sarah Drake says. "It has been a learning experience on many occasions … From wound care, cold laser therapy, and surgical assisting, I have had the opportunity to work with the birds and ask questions in regards to their anatomy and what their rehabilitation would entail."
Drake says she would have missed opportunities had she chosen to work for any other mixed practice.
"How many people," she says, "get to go home and tell their family they performed laser therapy on a bald eagle?"
Karen Beasley Sea Turtle Rescue and Rehabilitation Center
JEAN BEASLEY was walking the beach with her daughter when saw her first sea turtle in 1970.
"It was an immediate love affair," she says. "We were enamored with them right away."
Years later, her daughter Karen was diagnosed with leukemia as an adult and chose to live near the beach while receiving treatment. While sick, she organized the nest program, recruiting volunteers to walk the beach and care for turtle nests. Karen lost her battle with cancer and died at the age of twenty-nine, leaving insurance money to Jean.
"She told me that if she didn't make it, to do what I could for sea turtles," Beasley says.
It was because of Karen's dream that her mother created the KAREN BEASLEY SEA TURTLE AND REHABILITATION CENTER.
The hospital takes in turtles from all over the U.S., such as the nineteen it recently received from the New England Aquarium.
The local facility wouldn't be able to operate without all of the medical equipment that is donated from local clinics and hospitals.
"This saves us a lot of money," Beasley says. "One of the ways we were able to accrue the funds to build this building was thanks to our donations."
The hospital had a 900-square-foot building in Topsail Beach before its newer location was built recently – a 13,650-square-foot building equipped with a radiology room, surgery, quarantine room, and a turtle-themed gift shop.
"This is a big upgrade for us in many, many ways. We were able to release sixty-three turtles last year," Beasley said.
The hospital will open back up to the public in April with educational exhibits, a classroom, and Sea Turtle Bay, an
elevated viewing area where the public can view all of the sea turtles housed at the hospital.
As far as medicine goes, Beasley says, they turn to a combination of things.
"We use things like healing touch and reiki, and we have a Native American that plays flutes and drums as a therapeutic thing for the turtles," she says.
The all-volunteer organization has sixty to sity-five rotating volunteers who help at the hospital on a daily basis. Beasley personally transports the turtles to Raleigh for things such as CAT scans.
"We feel so blessed. We started out with nothing – one tank in a volunteer's backyard, that was it," she says. "To be able to grow to this point and be able to offer the services to the turtles is fantastic."
To view more of photographer Terah Wilson's work go to www.timelessfotographie.com/blog/about/. (Turtle photo courtesy of Karen Beasley Sea Turtle Rescue and Rehabilitation Center.)