Refugee Relief
Humanity Now brings supplies to refugees in Greece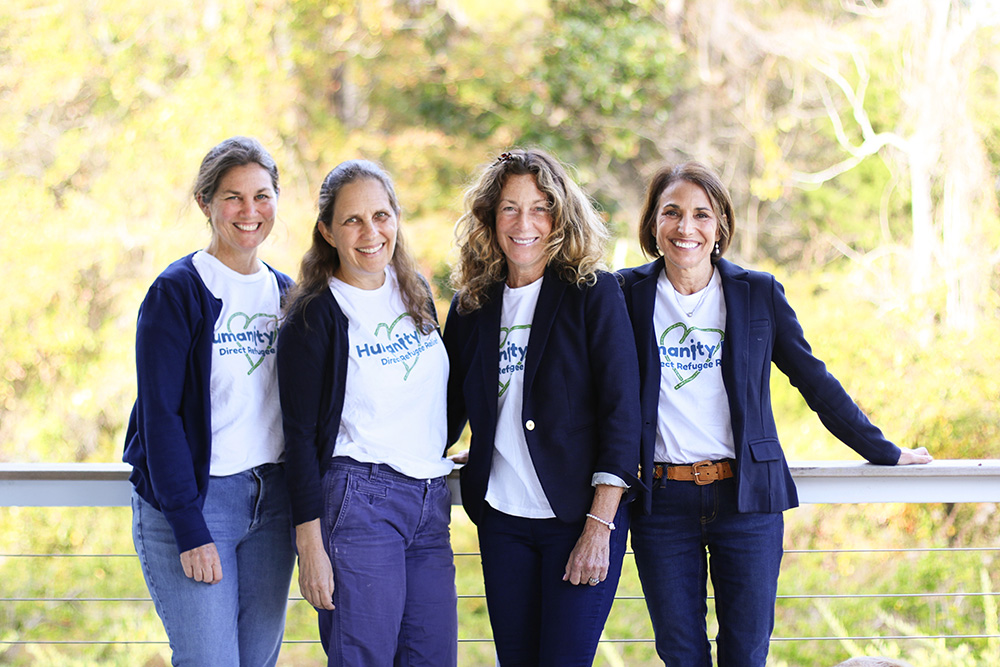 Amidst picturesque backdrops overlooking the Aegean Sea, Greece and the Greek islands are world-renowned for their luxury resorts and hotels. But, on the northern end of Greece along the Turkey border, it's a much different scene.
"It's a humanitarian disaster – people sleeping outside in tents in the freezing cold, dying of hypothermia. It shouldn't be acceptable, especially in a developed world," says DANA SACHS, writer, published author, and co-founder of HUMANITY NOW.
Humanity Now is a locally based nonprofit and direct refugee relief organization born out of a trip Sachs first took to Greece in May of 2016. That was for was a volunteer trip to a northern section of the country where thousands upon thousands of refugees, forced to flee from their war-torn homes in Syria, Iraq, and Afghanistan, were stuck.
"You kind of have to put your emotions aside and do what you need to do – serve soup, deliver clothes," Sachs says.
The once open borders allowing refugees to settle throughout Europe are now closed. At last count, 62,000 refugees of mostly women and children are currently living in overcrowded camps and abandoned buildings throughout Greece. And, that number is rising. An estimated 100 to 200 refugees arrive daily into the country by boat or raft coming over from Turkey.
"Dana was writing these emails while she was there," remembers friend STEPHANIE MEYERS. "Dana's a really good writer. They captured what it was like. I said, 'If you go back, I'm coming with you.'"
Today four friends make up Humanity Now: Sachs, Meyers, CAROL ATWOOD, and JEN MARAVEYIAS.
"These refugees' lives have been turned completely upside down. They've had to readjust to not having a home. It's hard to wrap your brain around that in this day and time, this is actually happening to people" Maraveyias says.
Through Humanity Now, the women raise money in Wilmington and bring it to Greece to purchase basic necessities for the refugees.
"We provide immediate needs – like pots and pans, so people can cook for themselves, flip flops and fans for when it's 100 degrees for weeks on end – those immediate things that can change their life just a little bit," Maraveyias says.
Humanity Now fills the holes the big organizations might miss. A request to a government organization for lice medicine once resulted in a delivery of wool blankets instead, in the middle of July.
"There's a huge gap between what people need and what they are receiving," Sachs says. "The Greek people started making sandwiches, more and more people got involved. It's become an international effort with small A teams operating there."
The only difference between the refugees and Wilmingtonians, say the Humanity Now organizers, is that the refugees were forced from their homes because of war.
"There was a twenty-year-old son of a Syrian family who helped us bring in some items, and I thought, 'He's just like my kid!' He had been in college in Damascus, studying economics, obviously very bright. It was heartbreaking," Atwood says.
All of Humanity Now's donations go directly to the refugees. The women pay for their own travel expenses, as well as administrative costs. Over the past year, the group has raised and spent about $110,000.
This February, the four again will travel to Greece. The organization is raising money, including online through YouCaring.com, for supplies to pass out during the trip.
"The refugees are very grateful for our help, and we find it so rewarding," Meyer says.
"Even if it's just the human touch," Maraveyias adds, "showing them someone cares, that we're all in this together."
To view more of photographer Terah Wilson's work, go to timelessfotographie.com
Comments
comments