Rediscovering Recess
Playing games with Cape Fear Sports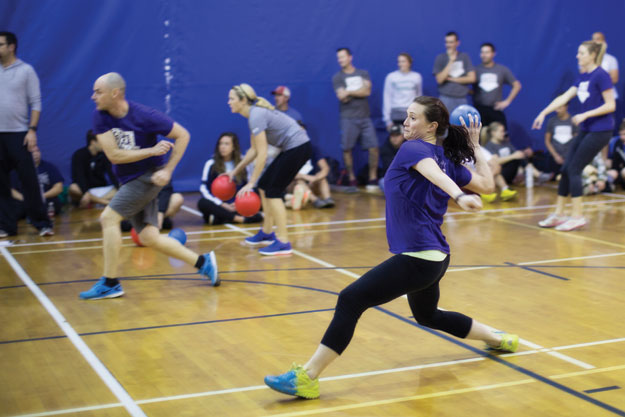 On a Monday night the Wilmington Athletic Club looks a lot like a high school gym during P.E. class.
There's the squeaking of sneakers on hardwood floor, the feeling of desperation from the losing team as the clock reaches zero, and the light-hearted camaraderie of teammates on the sidelines who stick together win or loss.
Organized sports have long been a favorite pastime of school-age kids, but at the WAC, it's fully grown men and women who are engaged in an intense game of dodgeball, lodging balls across the court at each other and sliding across the floor on their bellies to avoid being hit.
Adult recess-style sports leagues are trending in cities across the U.S. as a way to provide grown-ups a much-needed relief from the daily grind.
Partners TIM CRAMER and CLARK SHAY came together a little over a year ago to give Wilmington something it didn't know it was missing. Their company, Cape Fear Sports, has cultivated a community around adult social sports in Wilmington, and it's been a home run so far.
CAPE FEAR SPORTS has grown-ups embracing their inner-child with leagues such as human foosball, kickball, dodgeball, and bowling.
In addition to a healthy release after a long day of work, Shay says there are a lot of social benefits for the demographic participating in the adult sports leagues, which Shay says, is generally young professionals.
"The social aspect of it is great because people hang out together. You can go out on a Friday, and you'll see twenty dodgeball friends that you didn't know before, which is really cool," he says.
Shay says it provides newcomers and locals with a fun outlet to meet people in town they otherwise might not meet. Another interesting component of the adult leagues is that they're co-ed. Each league is about 40 percent female.
Not only are dodgeball friends hanging out on the weekends, Shay says there are people who were introduced through the sports leagues who are now dating.
Sarah Cramer, partner Tim Cramer's wife who plays in every sport Cape Fear Sports offers, says that the co-ed aspect is a benefit of participating in the leagues for reasons outside of networking.
"Sometimes when you play sports on an all-female team you're all sort of on an even-keel, but when you add the testosterone and the energy from the guys it gets a little more competitive, and it brings me up to their level," she says. "The guys are great. They're really encouraging. They can't holler at a girl for making a bad move!"
Of course there's a lot of interesting elements added to sports when you have a bunch of twenty and thirty-somethings rallying together to play.
There are team names that play on words like "Don't Stop Ball Heaving" and "No Hit Sherlock" (some more inappropriate than others), sports that are equally as creative like human foosball, and of course, there's often beer involved.
Some games get competitive, but mostly Cape Fear Sports is about getting together to do something carefree and fun outside of the usual ways to hang out. The lax atmosphere makes the sports inviting for a broad range of people, not just athletes.
"The games are pretty laid back," Sarah Cramer (left) says.
The fire for Cape Fear Sports sparked up North. Tim Cramer saw how well an adult sports league in Portland, Maine, was catching on and he knew there was an opportunity for it in Wilmington. He approached Shay who had the background of local business in the area, and the two incorporated their company in February of 2014.
Shortly thereafter they had their first season of dodgeball. Next came human foosball, a sport that created quite the buzz. Anyone walking by The Husk in downtown Wilmington on foosball night would be curious to know what's going on in the courtyard where there is what appears to be a life-sized foosball table – a box filled with people donning matching shirts,
kicking and shouting while holding onto bars made out of PVC pipe.
Cape Fear Sports has now successfully held three seasons of dodgeball, two seasons of human foosball, and one season of bowling. They have a total membership of over 400. The first season of kickball and another of dodgeball are currently underway. The group is waiting for nice weather to kick off beach soccer and another season of human foosball. Both will start May 19.
Beach soccer will be at Capt'n Bill's Backyard Grill, and human foosball will be at The Husk again.
Not only are the partners passionate about connecting people in ILM and supporting local businesses, they are also competitive individuals. You can find Shay and Cramer on the court shouting alongside the rest of the players. They play pretty much every sport.
"The soccer players really like foosball. I'm not the strongest soccer player, but the aspect of being able to drink a beer and play at human foosball was an added thing for it. I think I'm really going to like kickball," Shay says.
As for what's next, they have some ideas. Shay wants to incorporate Loopy Ball, a sport that is something like soccer played by people rolling around in giant inflatable balls, and according to the suggestions on their Facebook page, a lot of other Wilmingtonians see life-size inflatable balls in Cape Fear Sport's future.
To view more of photographer Megan Deitz's work, go to www.megandeitz.com.