Redefining Beautiful
The IAB models rule the runway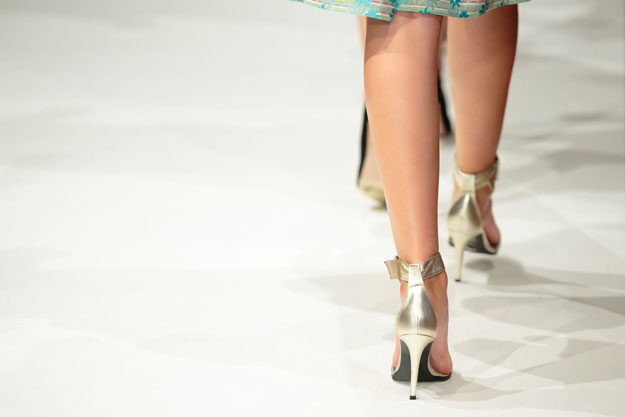 A chance encounter with a special needs child sent ANGELA POLLOCK on the path to helping individuals with disabilities.
One day, while driving in her hometown of Springfield, Ohio, she encountered a kid running down the street, weaving in and out of traffic on a very busy road.
"He was about eight years old and looked very disoriented," she recalls.
P
ollock (right) pulled over to the side of the road and chased after him. The child was autistic and nonverbal. Although he was nervous to approach her, Pollock says, "I was able to calm him down by picking daisies with him, while waiting for police to come. It's sounds really weird, but I finally felt like this was my calling," she adds. "That was my first experience working with an individual with autism."
Pollock majored in special education at University of North Carolina Wilmington. As vice president of the Student Council for Exceptional Children, she was charged with organizing a fundraiser and suggested a fashion show.
"I love fashion. I love thrifting, and I love working with individuals with disabilities, so we should give them the opportunity to show the community just how beautiful they are," says I AM BEAUTIFUL FASHION SHOW organizer Angela Pollock.
The first I AM BEAUTIFUL FASHION SHOW was in November 2013 at the Balcony on Dock and raised about $1,000. It was such a huge success, "I just had to continue it because everyone loved it so much," Pollock says.
What began as a small show with twelve models has grown to more than forty models and a larger venue – Pine Valley United Methodist Church's gymnasium. Last year's fashion show raised nearly $4,000 for Access of Wilmington-Miracle League and the Cape Fear Enrichment Program.
The Miracle League hosts baseball seasons for hundreds of children and adults with physical, developmental, and intellectual disabilities. The Cape Fear Enrichment Program provides social and recreational experiences; advances life skills; and connects community-based employment and volunteer opportunities to adults with intellectual and developmental disabilities.
Planning for the I Am Beautiful Fashion Show begins with announcing the date and model recruitment. Word spreads quickly. Pollock meets with each model and helps choose the wardrobe at Vintage Values on South College Road, unless they already have an outfit they want to wear. Each model can wear whatever they want and keep their outfit.
"If they want to be a surfer, if they want to be a cowboy, awesome! If they want to be really fancy, in a ballgown, awesome! Whatever they feel beautiful in … the theme is individuality," Pollock explains.
Area businesses donate items for raffle prizes and a silent auction. I Am Beautiful T-shirts are also sold at the fundraiser. Funds from the fashion show are used to pay Vintage Values back for the clothes, which is typically under $200. Remaining proceeds are donated to the two nonprofits.
Volunteers help with music or serve as buddies to those who need them. Area professionals do the models' hair, makeup, and nails. Pollock also tries to incorporate individuals with disabilities in the fashion show process.
This year, a model and artist, Davis, who is autistic and has been in all the shows since the beginning, is making jewelry for models to wear in the show. Another woman with disabilities will help with makeup. An autistic adult will play the violin prior to the show.
"If I know anything, I know that if someone has a passion about something, it does not matter if they have a disability or not. If you give them the opportunity to do it, they can do it. Sometimes, it's just about giving them the appropriate amount of support," Pollock says.
Pollock has seen the models overcome nervousness to walk the runway.
"You can just see their confidence grow," she says, adding that the day is not about their disabilities. "It's about them feeling beautiful and their community supporting them."
Pollock is now pursuing a master's degree in public administration after seeing a gap in programming for individuals with disabilities who have aged out of the school system. She serves on the board of directors at the Cape Fear Enrichment Program, works at UNCW as a graduate assistant for the Building a Better Wilmington Campaign, is an intern at the Oasis NC school for autistic students, homeschools a child, and conducts a weekly coffee club to help individuals with disabilities learn how to socialize.
But, the I Am Beautiful Fashion Show models have taught Pollack the most, she says: to just enjoy the little moments and celebrate the small victories.
"I'm very humbled by the whole experience," she says. "I'm just excited for it to continue and for it to give more and more individuals the opportunity to show the community what true beauty is."
Below are some of the models in this year's show.
Hair and makeup by Anna Woodall Lee
To view more of photographer Chris Brehmer's work, go to www.chrisbrehmerphotography.com.