Putting the Soul in Food
Two Fat Ladies Over a Simmering Pot develops a following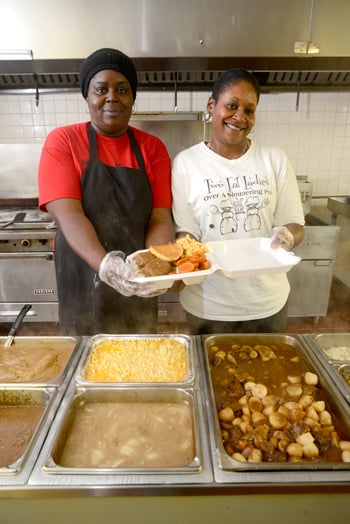 Alittle more than five years ago, two best friends – Gayleane White and Nicole Clay – sat on their front porch brainstorming names for menu items they would sell in their future restaurant.
When Clay found a building for sale downtown at 1601 Dawson Street, close to both of their homes, she knew it was perfect.
"I grew up cooking with my grandmother, and Nicole learned how to bake from her mother," White says.
White and Clay started their business years before the restaurant was open. They baked and cooked at home, delivering their Southern, home-cooked meals to offices around Wilmington.
The friends of twenty-five years met here in high school at Hoggard and have created a partnership between them, each using their skills to make the unique soul food found at Two Fat Ladies Over a Simmering Pot.
You won't find any frozen chicken or premade, fast-food quality meals there, either. They make the meals as they're ordered, and everything is created from scratch.
There's no food delivery truck and no middleman at Two Fat Ladies. From the cooking to the grocery shopping, White and Clay do it all themselves. They only bring in outside help – even for the cash register – if absolutely necessary.
The menu and times of operation aren't set in stone. They'll open on a Saturday for breakfast at 8 a.m. and stay until the food or customers run out.
White remembers Friday nights where she's stayed open until midnight for customers who were having too much fun to go home. While the customers can expect a different menu each time they visit, the only foods that do stay are fried chicken, fried pork chops, and fried fish.
"Our customers love these foods, and we'd be out of business if we stopped making them," White says. "And macaroni. I've had customers come in, ask if we have macaroni, and if we don't, they leave."
A good portion of the business comes from out-of-towners. They hear about Two Fat Ladies from friends who visited and have to try it themselves, or they found the niche last time they were in town and seek it out again.
The food portions are generous to say the least. White and Clay ensure customers have enough to satisfy them when they're at the restaurant and enough to enjoy at home the next day. On the menu, customers can choose from One Fat Lady (with one type of meat, one type of bread, and one side) all the way to Two Tons of Fun (with three different meats, one type of bread, and three sides). They also have the Heavy Chevy, Two Fat Ladies, Wide Load, and Veggie. Side dish offerings include collards, grilled cornbread, potato salad, and candied yams. It's like grandma's Thanksgiving cooking year round.
The menu was well known to the cast and crew of The Secret Life of Bees when it filmed in the Wilmington area in 2008.
White taught some cast members how to speak and cook to bring authenticity to their Southern characters, and crew members would frequently stop by Two Fat Ladies for meals.
"We would be packing up for the night, and the prop manager or someone would show up wanting 200 brownies," White says.
Other film crews took note as well – GMC's Somebody's Child and to.get.her, for example.
Despite the unpredictable hours and unassuming restaurant front, Two Fat Ladies' authentic soul food has garnered widespread attention. They've been on HBO, Channel 14, YouTube, and BET.
Their food has also been featured in Every Day with Rachel Ray magazine, an article that is now framed on the restaurant's Hall of Fame wall along with signed photos of visiting actors who passed through the dining room.
You don't have to be famous to feel at home at Two Fat Ladies, though. White and Clay are on a first-name basis with many of their customers.
"If there's someone who hasn't shown up in a while, I'll call them. I make it a point to let them know they're missed and make sure they're okay," White says. "I would like everyone to come by at least once. I guarantee once you do, you will be back."
To view more of photographer Jeff Janowski's work, go to www.jeffjanowski.com.