Pushed Around
Modern Day Bullies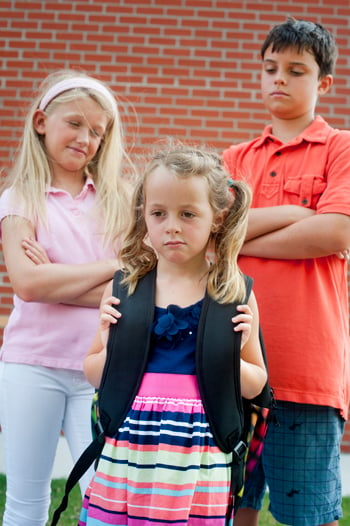 For Kimberly Baker it began in sixth grade when a classmate slapped her across the face in the stairway at D.C. Virgo Middle School. But, the taunting, teasing and bullying continued and came to a head in eighth grade when her classmates turned on her in the unsupervised gymnasium and pelted her relentlessly with balls until she lost consciousness.
"It was very hard for me to want to go to school. Most kids like to go to school, want to go to school, but every day I knew something was going to go wrong with me getting picked on or talked about," she said.
Baker, who is now 19 years old, received her high school diploma from Mary S. Mosley Performance Learning Center in June much to the relief of her mother, who remembers picking up her daughter from the hospital after she was rushed by ambulance from the school gym that eighth grade year.
Williston Middle School eighth grader, Olivia Randolph, would always get into fights. She said her classmates pick on anyone who doesn't wear name brand clothing, is a loner or looks different. She said she's targeted for being bi-racial.
After getting into a few fights, Randolph's teachers referred her to Linda Rawley, the community resource coordinator with the Wilmington Police Department, who met with some of the young women at Williston.
"The girls I was dealing with were the ones prone to fight," Rawley said. "They were all fighting for some reason or other."
She met with a group of girls at Williston three or four times to talk about their experiences, role play and work through hypothetical situations. The results were positive with fewer fights breaking out at the end of the school year, a time when fights are more prevalent, she said.
Speaking Up
So vivid are the memories of being pushed into lockers and being called names in middle school that 27-year-old NIQUE ROUSE launched a new organization in Wilmington called ProjectE2, which aims to empower young people to prevent the effects of hate, racism, prejudice and bullying.
"Middle School was very difficult for me," he said. "As a gay teen, it's very difficult especially in a small town."
Fortunately, he had the support of friends and family growing up in Mocksville, North Carolina in Davie County. He became one of the founding members of the local youth council and participated in statewide youth leadership development throughout high school.
"[After] being bullied and made fun of by small-minded people, I found the youth council as an outlet for me to give back to the community and make myself feel better about myself, which I think is something that's very important for youth, especially the ones that are bullied," he said.
Based on his experience, Roque plans to start the Wilmington Youth Council, which will serve as an advisory committee on youth affairs to local government. Project E2 has garnered over 400 members on Facebook thus far and is planning on storming Wilmington with flash mobs over the first weekend in August to raise awareness.
Anti-social networking
Bullying may be as old as time. But, nowadays with the Internet's infinite capability to broadcast everything, it's taken bullying to a whole new level. Facebook and Twitter are used to air grievances.
"I see it on Facebook almost every day," 19-year-old Baker said. "People will jump in and it will escalate to something that's just crazy."
It makes it more challenging for teachers and parents to intervene.
"Teenagers don't communicate the way they used to. There's a lot of underlying stuff that we don't see," said Beth Scheirer, graduation coach for Laney High School, where she also advises Students Against Violence Everywhere (SAVE).
Members of SAVE, which is a student-run group, facilitate peer mediations, attend training workshops and hold events. Baker joined SAVE when she reached high school.
"I joined because I knew I could help make a difference with my peers," she said. "Because of what I'd been through, I knew that I would be good at giving advice."
How you can help
For the bullied:
Support your child. Listen, comfort and take it seriously.
Praise them when they make appropriate choices to defend themselves for example, going to a teacher instead of fighting back.
Help them think of ways to avoid the bully for example, avoiding certain places or times.
Help them create a plan of what to do if confronted.
Inform the school guidance counselor.
For cyberbullying, if personal contact information has been posted online or threats made, report it to the local law enforcement agency.
For bullies:
Don't presume you are dealing with simply an angry, mean person. Many who bully may in fact be acting out or lashing out as an attempt to get attention, approval, build self-worth or self-esteem.
Approach in a personalized, caring way so you pave the way to build a genuine relationship. Ask them, "What do you get out of doing this? What do you like about this?" Be it being a leader, making friends or gaining power, explore other ways for them to obtain this for example, through sports, getting a mentor or joining an anti-bully group at school.
Consider if this is happening in school that it could be signaling underlying educational struggles. Perhaps tutoring will help them.
To prevent cyberbullying, teach your child to respect others and take away their Internet Service Provider or Facebook accounts if they violate that respect.
For the bystanders:
Learn to recognize all forms of bullying – physical, social and verbal. And, speak out about it.
Walk away and go get help.
Tell an adult in charge about places where bullying often takes place.
Sources: Jaclyn Scott, MA, LPCA family therapist with AMIkids family services of North Carolina, Project E2 and StopCyberBullying.org