Pumping Out the Pastry
Tia Saffo and her team make Greek Festival a sweet spot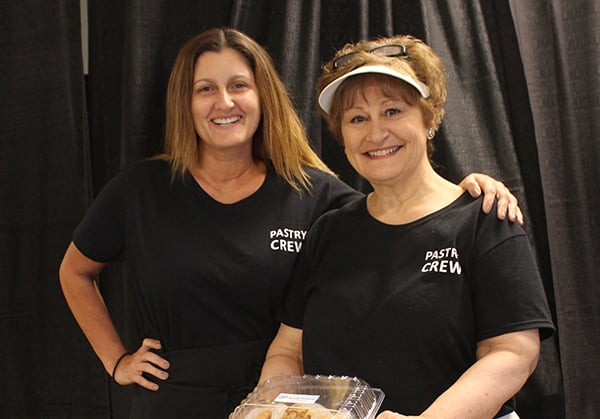 In both her professional and volunteer lives, Tia Saffo is responsible for counting dough.
Saffo serves as the controller for Saffo Contractors, her husband Nick's business, overseeing all the company's accounts. The Pittsburgh, Pennsylvania, native didn't set out for a career in business: she majored in history at University of North Carolina Wilmington. After her marriage she had to teach herself bookkeeping to help out at the family business.
She also did not set out to become a pastry expert. This was another role she was recruited into, not long after her marriage in 1994, when she became the newest Saffo to work on the St. Nicholas Greek Festival.
"My husband, who was at that time parish council president, lost the co-chairs of the festival," she recalls, adding that he had to become involved and, of course, so did she. Four years later, Nick Saffo was made co-chair of the annual event.
"When he took over as co-chair, his mother was pastry co-chair, but she had said she was retiring," Tia Saffo says. After securing a promise from the elder Mrs. Saffo to help her, Tia Saffo volunteered to step into her mother-in-law's role, which she knew would be a challenge.
"She helped me that first year, telling me what to do and how to do it," Tia Saffo recalls.
She also had help from the other co-chair, Maria Stasious, who has remained in her role.
"Maria knew a lot more about it when I started and had agreed to be my co-chair," she says. "We get along great and share responsibilities. She is the brains; I am the enforcer."
Enforcement has to be done tactfully, Saffo learned, explaining that she has found how to "frame corrections" to pastry-making protocol so that she retains her loyal crew of bakers from year to year.
As the festival has, in her words, "grown exponentially" in Saffo's 18 years as pastry co-chair, so has the volume of ingredients required for the nine types of sweets offered at the festival. Saffo is directly responsible for the production of two types, including kourabiethes – Greek wedding cookies. She has refined the process for producing her specialties.
"I have four different teams. I do the grocery shopping, bring the stuff to church and set it up," she says.
"I want my ingredients divided into the easiest way possible to put into batches. When you have 20 women working on this, you can't not be totally organized.
"I come in the night before and have the butter, sugar, flour, baking powder, baking soda – everything –separated into portions for each batch."
When she took over as co-chair, Saffo says, pastry crew members would bring their own mixers from home and make individual batches of dough. Then the church purchased an industrial mixer so the team can whip together four batches at a time. Saffo is always looking for further efficiencies, and was thrilled when she learned recently that she could call Sam's Club ahead of time and place her ingredients order for pickup.
Talk with Saffo about her years dealing with dough for the festival and she calculates the dates of particular milestones by which of her five children she was pregnant with at the time. Her eldest is 26 and getting married next year; her youngest is 15.
The pastry operation has been almost like a sixth child that she and Stasious have nurtured and watched grow.
"It's been an amazing experience; an honor to serve," she says.