Pulling No Punches
In the ring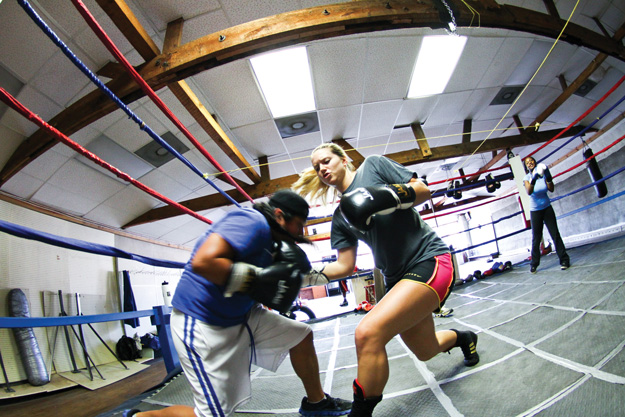 1302 Castle Street, you'll find a room full of sweat and determination.
There are multiple punching bags hanging from the ceiling surrounding a boxing ring in the middle. Gloves are tied to the banisters and sway to-and-fro with the movement of sparring matches.
It began in 1993 when DIEDRE FABIN and CAROLINA CHAMBER became persistent with calling Sherriedale Morgan about boxing with him. After multiple calls, Morgan relented.
"He brought them in there for a test, but really he was trying to scare them away. It didn't work. They were determined," says Andre Thompson, the current coach at Port City Boxing.
The women were put through the same workout Morgan's male boxers went through for training and finished with flying colors.
Down the line, it's an impressive list for Thompson's students.
"My girls have been nurses, teachers, stay-at-home moms, and high school and college students," Thompson says. "They're the most determined group of women I have ever met."
A number of female boxers now train with Thompson in the Wilmington gym, with some making a name for themselves in the sport.
Faye Jacobs Pigford wanted to finish her brother's dream of competing in the Olympics. She started training with Thompson and went on to be No. 1 for light heavyweight female boxers in the nation, then No. 3 in the world.
"You get out of it what you put into it, no matter who you are outside of the ring. I have my nails done and my hair curled, but I was able to win a national championship," Pigford says.
One of the gym's newest boxers, Shaniqua Ebony Marshall, originally came to Thompson last summer and was ready for her first fight this spring.
For Marshall, boxing is her personal time. "It's a great stress reliever and a way to express myself without talking," she says.
Becoming a boxer gave her a boost of confidence she didn't know she had and strengthened her inside and out.
"Boxing is obviously physical, but it's incredibly mental as well. I'm always focused on both my moves and trying to figure out what my opponent is going to do next, but it's so much fun that I'm never worried," Marshall says.
She says she wouldn't have gotten as far as she has without Thompson. The coach doesn't make his boxers form to his methods; he adjusts to what methods work for each person.
The schedules are strenuous when a match is around the corner. Training sessions can be a daily occurrence, lasting as long as six hours.
"My girls have type-A personalities. They take this sport seriously, even if they only have twenty minutes to train. They're perfectionists, and it makes them good at what they do," Thompson says.
That's true for Kristen McKnight, who started boxing as a way to stay in shape but stayed for the rush of winning.
"I saw Andre's flyer asking for female boxers and thought, 'I could do that,' and then I got stuck. Winning is the best feeling. It's addicting," she says, laughing.
Thompson has been coaching since he was fourteen. Morgan, an inductee in the Carolinas Boxing Hall of Fame, took him on as a student and taught him everything he knew. Thompson's coaching methods are strict but understandable. He trains his
boxers hard when they're with him but encourages them to be themselves when they're at home.
"If you think of nothing else and focus on boxing all day every day, it's not fun
anymore," Thompson says.
Thompson is training the group now for the 2016 Olympics. He doesn't plan to recruit because he wants to make it their choice, but he has a few women already interested, including McKnight.
It wasn't until the 2012 Olympics in London that women's boxing was included as an event, bringing a flood of attention to the sport and its competitors.
"I felt so much joy when female boxing was finally admitted to the Olympics," Pigford says. "Women have to do twice as much to prove themselves."
The Port City Boxing gym has built a reputation for strong female competitors after years of building up talent since the 90s.
"There are some of my male boxers I won't put in with my females because the women will dominate the men. And not because the men take it easy – the girls are just that good," Thompson says.
For Marshall, it's not all about the competition, though. She sees boxing as a very humbling sport, a way to stay fit, and something she can progress in daily.
"Dare yourself," she says to other women who are interested in the sport. "You'll regret not pushing yourself if you don't, and at ­least you can say you tried."
Port City Boxing & Fitness
Along with competitive training, the certified boxing gym also provides non-competitive training and fitness-focused boxing for youths and adults.
1302 Castle Street
Want to see the gym in action? Click here!
To view more of photographer Keith Ketchum's work, go to www.keithketchum.com.