Public vs. Private
School Choice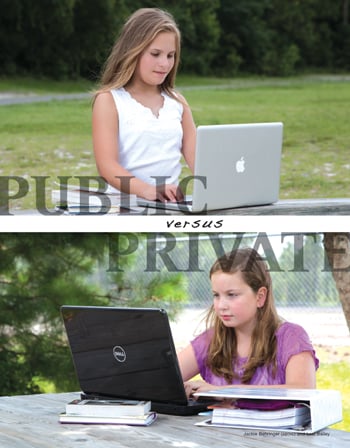 A
s Brunswick County Schools Superintendent Ed Pruden knows, when it comes time for parents to choose their children's school, the choice for most often comes down to finances.
"The public school system will always get 90-95 percent of the children in the community," Pruden says. "We don't consider ourselves in competition with private schools; we are competing against ourselves."
It's that kind of self-evaluation that makes local parents like ELISE and Bill Bailey choose to stay involved overseeing their son and daughter's public education. Their nine-year-old son Aiden is entering fourth grade at Williamson Elementary School. Their twelve-year-old daughter Lexi is going into seventh grade at South Brunswick Middle School. The family relocated to the area.
"I was born and raised in western New York," says Elise Bailey. "My husband bought property here before we met. I became nervous. My friends said what are you doing?"
Her friends questioned what kind of education the couple would find for their kids in Wilmington area public schools.
"I wanted to look at Montessori schools," Elise Bailey says. Her husband was more at peace with the idea of their kids going to public school.
"I think everyone here is aware of Cape Fear Academy," Bill Bailey says. "It's the Cadillac of private schools. But of course, the cost of attending private schools such as that is overwhelming to most families whether it be in Brunswick or New Hanover County."
For parents in the region, the point eventually comes when they have to make education decisions for their children. On the public school side, there are year-round, open choice, and magnet school options if they want to look beyond the assigned school closest to their homes.
And for many parents, the process starts with an even broader question: Do they want to send their children to
public school or private school?
Best of both worlds
For MICHAEL and Lisa Boggio, there was no question that in Wilmington, they wanted to send their four children to private school. They say they noticed a major difference in North Carolina.
"My wife grew up in Chicago, and I grew up in New Jersey," Michael Boggio says. "Everyone went to the same community local school. Moving to Wilmington in 1999, we found there aren't a lot of community schools where one community goes to the same school."
But beyond that, they felt a private school education, at least in Wilmington, would be superior to public.
"We value education very much and wanted to give our kids a good foundation, so we started all our four kids in Friends School (of Wilmington) Montessori program," Boggio says. "But we also knew with four children sending them to private school from start to finish was not a real possibility financially for us. So we found Eaton Elementary, which is a charter school but a public school. There's a lottery system, and their curriculum is run a bit different than other public schools. It was a good fit for our older two."
The couple has thirteen-year-old twin boys Will and Cole who now attend Cape Fear Academy.
"After they finished fifth grade (at Eaton Elementary), we could see they weren't being challenged in all areas of education. And they play a lot of sports," Boggio says. "Cape Fear has been phenomenal in bringing them up to speed in areas where they didn't have academic tutelage before."
The boys start eighth grade in August. As for costs, the Boggios say they planned ahead.
"We had been saving for a number of years. We had been squirreling away money every year into different accounts to give us access so we would have the opportunity to send them to private school," says Michael Boggio, who works in wealth management.
Defending public schools
Other parents say their children have found academically challenging programs within public schools.
Bill Bailey, who serves as president of the Brunswick County school district's Parent Advisory Council, remains impressed by what he's seen with his children's educations in the school system.
"The thing we're so pleased with are the advanced education opportunities that begin at even the lower grade level," he says. "The high school has the same set up. The big pluses for Brunswick are advanced coursework, honors coursework. All across the board, the teachers are trained and do a great job."
The couple's daughter Lexi, who is entering seventh grade, is enrolled in the district's academically and intelligently gifted program.
"It's been fantastic," Elise Bailey says. "The access to computers and other technology – I remember when she was in the third grade, she wanted to show us a PowerPoint. My husband and I looked at each other – we were like, 'What's PowerPoint?' "
The couple knew she learned it in public school.
Elise Bailey says she knows parents who've had their children in private elementary schools and found once they move to public, they were behind.
"I don't see where you're paying and getting anything better is the feedback I'm getting from parents who have taken their kids from private to public," she says. "This is at a mom's club or a ball game, and they've made the switch and said to me, 'I'm surprised my child had to get extra tutoring, extra help on the side for math or for reading.' I was shocked to be honest with you."
Determined to make private school work
While Carol Barnes makes a good salary working in Verizon Wireless' finance department, it's a stretch for her to afford her seventeen-year-old daughter Christina's education at Cape Fear Academy. But Barnes says she and her husband, Lonnie – Christina's stepfather – wouldn't have it any other way. The couple moved to Wilmington three years ago from Virginia.
"Christina had been in public school there since the first grade," Carol Barnes says. "We always wanted to put her in private, but we were satisfied with the public schools in Virginia."
When Carol Barnes relocated to Wilmington with a job transfer, she and her husband visited Wilmington's public schools.
They weren't what we were looking for with math and English," she says. "Christina was a good math student, but she really needed to work on her writing and reading."
Her daughter also excelled in sports – one in particular.
"I looked up field hockey teams in Wilmington, and we stumbled on Cape Fear Academy. The curriculum was everything we were looking for," Carol Barnes says. "It was the perfect school, and then I looked at the tuition, and I said to my husband, 'No way.' "
But the couple, determined to send their daughter, found a way.
Carol Barnes took loans from her 401(k) retirement to help cover tuition costs at the school of about $15,000 a year. She says it will take her three to four more years to put it back as she makes monthly payments.
"It's a stretch, but we are doing it," she says. "I know it's worth it. I can see in her education, her academics, the opportunities she's having that she never would have had in the public school system. And her reading and writing have improved immensely."
One issue that initially concerned Lonnie Barnes was the school's lack of racial diversity – Christina is the only black student in her senior class.
"I didn't like any school that didn't have cultural diversity, because that can breed racism," Lonnie Barnes says. "But then my wife and Christina, they loved it, and that swayed my mind. It's the education. They had a senior day, and a coach made a speech that stuck with me. He said 'You are here to become CEOs, lawyers, doctors, engineers.' I was so impressed by that and knew this was the school I wanted her in."
Finding a good fit
While Pernilla Kanyok and her husband could afford to send their three young children to private school in Wilmington, the couple opted for public.
"We did consider private when we moved here," Kanyok says. "We did a lot of research. We applied to one private school we thought would be great at that time."
But the more the couple considered the decision, the more they found themselves attracted to Wrightsville Beach Elementary School.
"I felt it was our kind of lifestyle," Kanyok says. "It's a beachy little school. They learn about nature, about being outside. At that time there weren't as many students as there are now."
Kanyok, who grew up in Sweden, attended public school as a child. Her two daughters Sienna, five, and Linnea, nine, attend Wrightsville Beach Elementary. Her eleven-year-old son Wesley is going into the sixth grade at Noble Middle School in New Hanover County.
While Kanyok says she's been satisfied with her children's public educations so far, she remembers Sweden's academic system as more academically rigorous when she was growing up. She points to one element of her education in particular that's missing from public schools she's seen in Wilmington.
"We had more languages. In the third grade, you get introduced to a second language. In the seventh grade, you get introduced to French, German, and Spanish. I just think it was more well rounded. Statistically, if you look at schools here in the United States, we are far down the list when it comes to academics compared to other countries," she says.
But she's proud to say her children are all good students with a focus on her eldest, who's now in middle school and getting straight As.
Some public school administrators work extra hard to make the educational environment both challenging and a level playing field for students.
Winter Park Elementary School in the New Hanover County school district is one. The school has 350 students with an average of one teacher per twenty students. Principal Monica Goza is particularly proud of the school's reputation in Wilmington.
"I've had parents whose children were districted for another school and another system," Goza says. "Our county allows parents to choose and apply to open enrollment in the spring. I've had parents choose our school because of our diversity and our philosophy to create an emotionally safe learning environment for our children."
That environment includes covering costs for students' school supplies from composition notebooks to mini white boards, rulers, and pencil boxes. "We provide supplies. We pay for a yearly yearbook for each child. We pay for all the field trips. We pay for ice cream every other Friday. We want to make sure every student feels included, and that's been the philosophy at this school for seventeen years," Goza says.
Winter Park Elementary is celebrating its 100th year anniversary of operation. The school aggressively seeks grants to cover unique programs for students.
"The Whole Foods grant went to purchasing fruits and vegetables for our student-maintained garden," Goza says. "Intracoastal Realty, through their teachers, fund and supplied chess boards for our chess club."
While some parents may perceive private schools as helping students get into better colleges, Pruden says many of his seniors go on to schools just as prestigious.
"We have a full range of AP (Advanced Placement) classes," he says. "Many of our students have their freshman year of college completed by the time they graduate from high school because all their classes are AP classes."
Pruden says public schools have not done a good enough job telling their story.
"Our graduation rate last year was 84 percent. Our dropout rate is 3.4 percent," he says. "Those numbers are getting better every year as they should. We like to advertise the list of colleges our kids go to and how many of our kids are going to prestigious schools. We had two of our kids go to the Naval Academy, Carolina, and Duke and also go to flagship schools."
Perhaps father Bill Bailey sums up best the decision parents face:
"Any education is a failure if your children are not being challenged," he says. "I want to make sure whatever level my child is at they are always being challenged."
To view more of photographer Mark Steelman's work, go to www.marksteelmanphoto.com.