Prom-Time Fairy Godmothers
A Cinderella story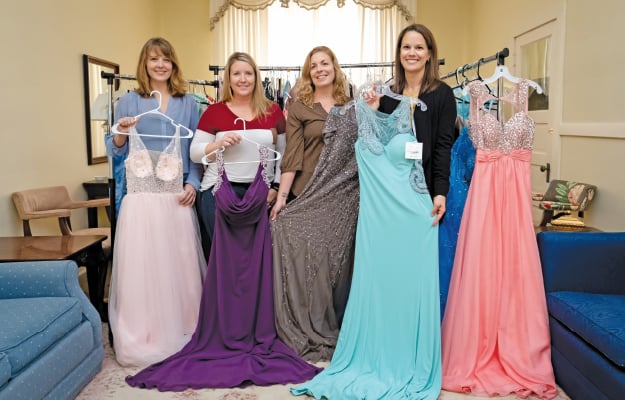 Prom is a signature event in any high schooler's life. For many, that means dress shopping and all the decisions that come along with that – strapless or off the shoulder, what color, which accessories? But, imagine a girl not being able to attend because of financial constraints.
Now, there is a place for these high-schoolers to turn to thanks to a charity started in Wilmington by ALLISON BARRETT CARTER called CINDERELLA'S CLOSET. Carter had been involved with a chapter of the organization while living in Chapel Hill, and after relocating to Wilmington, jumped on the chance to bring one here.
"I decided to go for it," Carter says. "And, I was ready to give back to my community and discover Wilmington at large."
Cinderella's Closet functions as a mission through Grace United Methodist Church, which Carter attends. Once Carter was given the green light to start the local effort, Cinderella's Closet took off.
The group works like this: Two times during the spring season (March 30 and April 13 this year) ahead of prom time, dressing rooms, racks of dresses, shoes, and accessories fill the entire second floor of the church. The girls shop for their dresses with volunteers, or "fairy godmothers" as they are called, and embark on their journey to becoming belles of the ball. The group receives the dresses and accessories as donations from consignment shops, the community, and through various drives.
Juniors and seniors in New Hanover County Schools are eligible for the event, and their names are passed on to Cinderella's Closet from guidance counselors and social workers.
Once a girl walks into the "closet," she is immersed into a world with the simple goal of making her prom day amazing and memorable.
"Prom is important for most girls. I remember that day, and I didn't want a girl missing this rite of passage when our community clearly has the resources to make it happen," Allison Barrett Carter says.
"But, also the focus of the charity is to make these girls feel special and surround them with love and support," says Carter.
The "fairy godmothers" do more than just help the teens shop.
"You get to know the girl and bond with them. They talk about their future plans and dreams," Carter says.
One such "godmother," SAMANTHA CAMPBELL , has been volunteering for three years and sees the experience as something uniquely special and rewarding.
"The experience is really like no other," she says. "To see the girls so happy when they find the dress brings a feeling of pure joy and excitement."
Even with donations coming in, Cinderella's Closet plans fundraisers to buy extra inventory.
"Right now, we have about 1,500 dresses, but we can't rely solely on that," says HOPE INMAN , chair of this year's event season. "For example, we are always on the lookout for certain sizes, and we hope to raise money to purchase what we lack."
"Our hope is the fundraisers enable us to dedicate a special day to these girls in which they feel like princesses with all attention on them," Inman adds.
Her desire is to make sure each girl walks out with exactly what she wants and the perfect dress. And, Inman means that literally.
There are seamstresses on hand to tailor each dress for each girl, ensuring not only the perfect dress but also the perfect fit. And, to top it off, the girls get to keep their items.
JULIE CROW , fundraising chair, couldn't resist the need to help with Cinderella's Closet, now in its third year locally. She was drawn to helping out and the impact it could have.
"I remember going to my prom, putting on a fancy dress, having my hair done, taking pictures, and feeling confident," she says. "That is what we want for these girls, and why I joined. I want those same experiences and feelings for them."
Crow planned this year's fundraising event, coming up this month, and is looking forward to the charity's biggest fundraiser to date.
"We came up with an idea that was connected to Cinderella's Closet: prom," she says. "Why not have a prom for adults? It will be a night of seeing friends dressed up (no matter the decade) and dancing to some throwback songs."
If past years are any indication, then Cinderella's Closet is set once again to create a magical evening for some local high-school girls.
"Our first year saw thirty girls, and our second, eighty girls. And, we are anticipating even more this go-round," Inman says.
"It is indeed an experience you never forget, especially when the girls and their moms cry," Carter says. "It is such a good feeling."
Cinderella's Closet
Once Upon a Prom Fundraiser
7-11 p.m. | Saturday, February 9
Brooklyn Arts Center,
516 North Fourth Street
Tickets:
$50 single | $85 couple
(must be 21 to attend)
To view more of photographer Kevin Kleitches work, go to kevintitusphoto.com.
Want more WILMA? Click here to sign up for our WILMA newsletters and announcements.