Produce Prowess
April Sussman continues to see The Veggie Wagon grow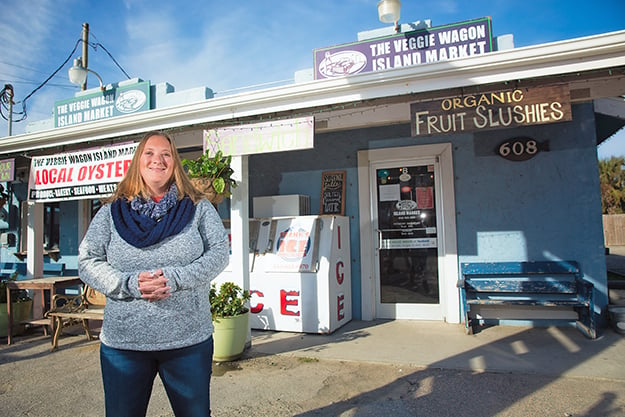 Who knew farmers would be trending. An increased desire among consumers to know where their food comes from has led to an exploding demand for locally grown produce. In fact, Packaged Facts says local foods are estimated to generate more than $20 billion across the U.S. by 2019.
Max and APRIL SUSSMAN jumped on the band wagon, or in their case, "The Veggie Wagon" at the right time.
"We started a little produce stand … and it kind of snowballed from there," April Sussman says. Their roadside produce stand named The Veggie Wagon stared in 2009 and grew into a thriving business. Today The Veggie Wagon has two commercial kitchens, The Veggie Wagon retail store and plans for a second retail store to open spring of 2017.
"We feel ready … We always knew we wanted more than one store," April Sussman says.
The Veggie Wagon also has a popular fresh produce home delivery service. Customers can order online at theveggiewagon.com and get boxes filled with locally grown, seasonal produce delivered to their front door.
"A lot of people like it. It helps them come up with different ways to cook. You're not going to get tomatoes in the middle of November. It forces people to think about cooking seasonally," April Sussman says.
Buying locally grown produce means fruits and veggies are many times picked that morning right off the farm, they have a longer shelf life, are free of chemicals and waxes, and often cost the same or less than chain grocery store produce. Max and April Sussman and their staff partner with some of the area's best farms in Southeastern North Carolina.
"The quality of produce that goes in the boxes is excellent, that's something we're really, really big on. You're not going to get a shiny squash with wax. This is high-quality produce," April Sussman says.
The Veggie Wagon production kitchens make more than 600 products including homemade salad dressings, bread dips, sausages, cheeses, and ice cream, to name a few.
Many of the items can be found on the shelves of Whole Foods Market and other retailers or in The Veggie Wagon store in Carolina Beach on Lake Park Boulevard.
The second store coming this spring will be larger in size and located in midtown Wilmington at the Courtyard at Masonboro center. The Sussmans say expect a wider variety of groceries and higher-end wines.
The Veggie Wagon's produce box delivery service will continue. April Sussman says kale, turnips, rutabagas, sweet potatoes, and butternut squash are typical produce found in a fall or winter box. Spring boxes she says have more berries, eggplant, cucumbers, peppers, and tomatoes.
Buying local produce is a great way to support the local economy, April Sussman adds.
"It's nice," she says, "The money can go directly to our local farms."
To view more of photographer Chris Brehmer's work, go to www.chrisbrehmerphotography.com