Pound it Out
Rockin' workout makes its way to Port City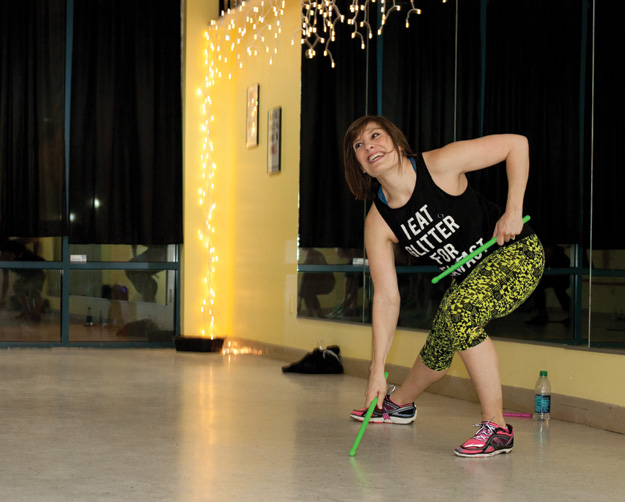 If you want to channel your inner rock star while drumming your way to a fitter physique, join the latest fitness craze: POUND.
Developed by two female drummers, POUND involves a full-body cardio and toning workout using lightly weighted drumsticks. The fast-paced class works every major muscle group to loud music, creating a lively, upbeat atmosphere.
Participants simulate drumming with Ripstix, which are one-fourth pound, neon green sticks that are slightly shorter than regular drumsticks. The constant motion of the Ripstix maximizes the arm workout while emulating the exhilaration and stress release of beating a drum kit.
In early 2015, KARSON REED, a licensed Zumba instructor, broadened the scope of her business by introducing POUND classes to Wilmington.
"POUND is a workout with loud, fun music," Reed describes. "You have drumsticks, and you get to beat stuff really hard and get your stress out."
As for the exercise benefits, Reed describes it as a core and toning workout.
"It is some cardio, but it is mainly toning, getting your core in shape, a lot of thigh work, and isometric muscle movement," she says.
Reed first learned about POUND through her sister-in-law in Lexington, Kentucky, who sent Reed a video of a POUND class. The next time Reed visited her, they took a class together. This proved serendipitous, as that one class was all it took to convince Reed to bring POUND to Wilmington, and she completed instructor training in Atlanta.
"I felt like POUND was the edge I need to further my business, to expand it into other types of fitness beyond Zumba," Reed says. "I felt that it was a good marriage with my Zumba classes."
Over the years that she has taught Zumba, Reed has amassed a large following of "Zumbies" in the Wilmington area. Her Zumbie network has been very receptive to POUND, filling the studio each time the class is offered.
"People like that it's more toning, less cardio and more core and strengthening," Reed says. "The other feedback I get is that it is a really tough workout but you don't know how tough it is because you are drumming, and you're distracted by moving your arms, listening to loud music while you have been in a squat or lunge for a few minutes."
Reed's POUND classes are only thirty minutes from warm-up to cool down, another factor that is attractive to those looking for an intense but short class. POUND classes are organized into sets of fifteen minutes, so classes can be either fifteen, thirty, or forty-five minutes long. For now, Reed is keeping her POUND classes at thirty minutes, in part because they follow her Zumba classes and many people are doing both back-to-back. She has toyed, however, with the idea of offering a forty-five-minute Zumba class followed by a forty-five-minute POUND class in the future.
As a Zumba instructor, Reed is a bundle of energy exuding confidence and positivity on the dance floor. She is known for creating fun dance routines to a mix of pop, Latin, R&B, rap, and international music. With a smile on her face and a bounce in her step, she reinforces the premise that has made Zumba one of the most popular group exercise classes: "ditch the workout, join the party".
Teaching Zumba comes naturally to Reed, who studied dance for twelve years. She also was a cheerleader from first through twelfth grade and then later served as a cheer coach and choreographer.
"My whole life, I had danced, done cheerleading, been involved in theater, but I hated working out," she explains. "When I found Zumba it spoke to me, because I felt like it is not a workout. You dance and have fun and are carefree, and in the midst of it all, you are burning calories and working out."
Whether teaching POUND or Zumba, the community of people who take her classes form the crux of what Reed loves most about her job.
"I love the relationships I have built," she says. "I've met so many people that are in my life every day. It has become like a little family."
To view more of photographer Paula Stauffer's work, go to www.paulaandreaphotography.com/blog/