Plates of Tradition
Family-style dining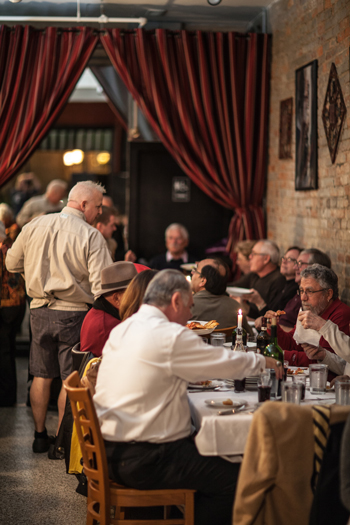 Lunch-hour patrons munching meatball subs at COUSINS DELI may hardly notice the St. Joseph's Day family dinner depicted in a black-and-white photograph on the restaurant's dining room wall.
The picture hangs among many of owner Joseph DeLiberto's family photos. A single sentence painted in the middle of the display reads, "The fondest memories are made when gathered around the table."
Ask DeLiberto why he's in the deli business, and he'll point to that photograph.
"This," he'll say, "is what it's all about."
DeLiberto's family history, including the clan's annual feast for St. Joseph's Day, which falls on March 19, not only keeps DeLiberto in the food business, but also drives him to share more than deli sandwiches.
It all started with a prayer to St. Joseph.
In 1922, DeLiberto's paternal great-grandmother was deathly ill. Family matriarchs gathered by her bedside suggested that her daughter, DeLiberto's grandmother, just 16 at the time, ask St. Joseph to spare her mother's life.
Tell him, they advised, that if he lets her live, you will celebrate St. Joseph's Day for the rest of your life.
St. Joseph is considered the patron saint of Sicily, from where the DeLiberto family hails. When Sicilians appeal to St. Joseph, they promise to honor him with a feast if he answers their prayers.
"The next day, she gets up off her death bed, she gets well, and the following year − 1923 − they started celebrating St. Joseph's Day in my family," DeLiberto says. "This our ninetieth consecutive year celebrating St. Joseph's Day."
Early feasts involved family as well as every neighbor on the block in DeLiberto's native New Jersey. The photo at Cousins shows Grandma and other women standing by the kids table.
DeLiberto remembers his father and grandmother cooking for hours the night before the meal of fish, fruit, frittatas, fried eggplant, fresh bread, the mainstay lentil and pasta soup, and much more.
Yet, food wasn't the major appeal.
"St. Joseph's Day to us meant we were going to see our entire family," DeLiberto says.
Today, nearly 100 DeLiberto relatives gather for St. Joseph's Day.
DeLiberto references celebrations past and present as he operates Cousins.
After moving to Wilmington in 2006, DeLiberto ran flooring and landscaping businesses, but he longed for the deli he owned for seventeen years back in New Jersey.
Mere weeks after DeLiberto and his wife, Debby, in 2012 opened Cousins at 7 North Third Street, across from the New Hanover County Courthouse, the place felt like a longtime Italian family restaurant, with patrons talking table to table whether they were acquainted or not.
Despite the deli's quick success, DeLiberto couldn't shake the desire to give diners a larger sense of the love he feels at family gatherings, especially St. Joseph's Day.
As a result, the DeLibertos in February started weekly, Italian, family-style dinners.
Between 7 and 10 p.m. each Friday and Saturday, chatter fills Cousins' dining room as people sample six courses, including family recipes such as DeLiberto's grandmother's tender, not-too-sweet biscotti.
This year, DeLiberto takes his grandmother's pledge to always celebrate St. Joseph's Day even further.
When a group of college students spends spring break in Wilmington to help Habitat for Humanity build homes for the needy, DeLiberto will feed them – on the house.
He'll cook the meal and deliver it to the students on St. Joseph's Day.
"You just talk about the blessings that we've had," DeLiberto says of his family, suddenly moved to tears as he recalls his culinary heritage and how it garnishes the deep devotion the DeLibertos feel for one another. "Most people have no clue about what an Italian family really is.
"I think this (cooking) is subconsciously coming out of me because it has always been there," DeLiberto says, "and I can't be happier."
To view more of photographer T.J. Drechsel's work, go to www.tjdrechselphotography.com.