Plated Palate
Erin Wiley builds Porches Cafe's reputation with fresh flavors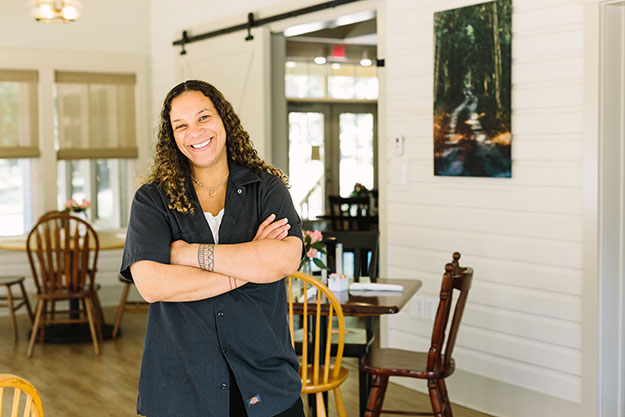 Chef ERIN WILEY is one of those lucky people who know very early on what it is they want to spend their life doing.
"I realized when I was probably about eleven years old that I wanted to cook for a living. My mom had a baby and went back to work, and I kinda took over the cooking duties for the household," Wiley says.
"My grandfather got me this Paddington Bear cookbook when I was like, six. So, I had recipes for kids, but basically, really, a lot of stuff with chicken. I think one of the dishes when I was little that I was most proud of was this braised chicken with soy sauce and spices."
Wiley was born in Southern California, to California-bred parents who appreciated all kinds of food and loved to cook. Later, the family moved to Oak Ridge, Tennessee, outside Knoxville, where Wiley was exposed to Southern food traditions.
She majored in literature and cultural anthropology but always found herself coming back to food. At twenty-two, she enrolled in culinary school in San Francisco, at the beginning rumblings of the immense foodie scene that would descend on the city for the next decade.
Wiley has built up a pedigree. She completed her externship at the sky-high Hotel Portillo in Chile, nestled in the Andes. After several years in California kitchens, she found herself in Wilmington, where she worked at YoSake as a sous chef, then helped open both Rx and Pembroke's under James Doss.
A connection at Pembroke's introduced her to Burrows Smith, one of the managing partners of River Bluffs, a community in Castle Hayne along the river. The development wanted to include a small restaurant as an amenity to its residents.
"Originally, when we opened, we just had one small dining room, and the rest of the space was going to be a general store. Initially, we were selling River Bluffs schwag, and wine, and drinks, and produce. And, the restaurant started going so well, we 86ed the idea of the general store and just turned it into a full restaurant," Wiley says.
PORCHES CAFE, which opened last year and whose menu is an array of sandwiches, soups, and salads, along with a short dinner menu, is far from the big, bustling kitchens of San Francisco. For starters, it doesn't even have a full kitchen. The little kitchen has only two sandwich presses, two convection ovens, and two induction burners.
"I'm really proud of some of the stuff we've done. We've done really obscure German dishes and Israeli dishes, sushi. We make our own pasta. It's pretty cool," says Porches Cafe chef Erin Wiley.
"Obviously, there's certain things we're never going to be able to do. You're never gonna be able to come in there and get a steak and a potato; we can't really do fish. But, I'm really proud of the food we're doing, especially on that equipment," she says. "I really have to think about how I'm going to execute the food we're doing under those constraints, and that really has been the most challenging part of this position."
It helps to have a staff capable of pulling off the gymnastics of dinner service made on essentially glorified hot plates. Wiley is joined in the kitchen by her husband, Jason Crumpler, who helped open manna; Josh Taylor, formerly of Pembroke's; and Hazley Carter. Together, they've created a menu that is a masterpiece of how to work with what you've got and keep it basic.
From duck confit to meatloaf, and a slew of craft sandwiches, they've managed to become local favorites for both the lunch and dinner crowds. Wiley says their most popular sandwich is the Cape Fear, a simple turkey, bacon, and avocado on sourdough.
"I think last month we sold 4,000 dollars' worth of that one sandwich alone," she says.
Porches has no plans to expand anytime soon, but Wiley has been working to get a community farm going as a partner to the restaurant. The farm was part of the initial concept but has been slow in development, and Wiley is hopeful it's fully functional this fall. But, otherwise, expect Porches to remain the small neighborhood gem.
"If you look at a lot of the fast food chains, they're really struggling now," she adds. "It's clear people want fresh and healthy food."
To view more of Photographer Lindsey A. Miller's work, visit www.lindseyamillerphotography.com.