Pink Ladies
Pink means go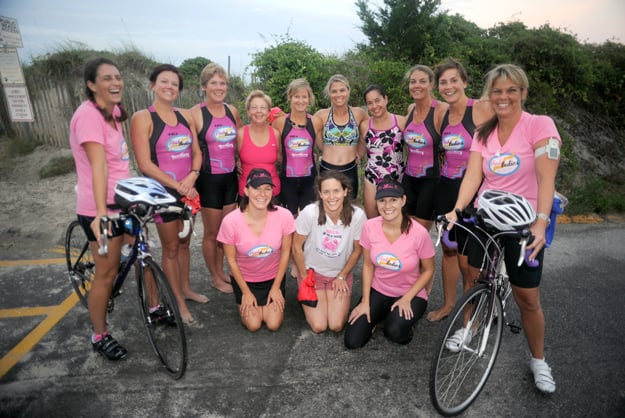 The Pink Ladies of New Hanover County is an organization on the move, just like its founder, Eliza Blackwell.
Since it officially started in July 2010, the group has grown into an organization of more than 100 women who challenge each other to stay fit and participate in all kinds of athletic endeavors from swimming, biking and running to yoga and stand-up paddleboarding.
"We empower each other, we race together and we become more healthy together," Blackwell said.
Blackwell took up her first serious athletic challenge five years ago when she and her sister responded to a dare from her sister's husband: the three would participate in a team triathlon to raise money for the Make-A-Wish Foundation. He would swim, her sister would run and Blackwell would bike. The trouble was, Blackwell hadn't done much cycling and didn't even own a bike.
Under-prepared but determined – and with a brand-new bike – Blackwell completed her third of the triathlon in a gusty nor'easter that forced cancellation of the event's swim portion. Far from blowing her off-course, however, the experience sparked an interest in competitive athletics that fanned into a flame two weeks later when she watched the PPD Beach2Battleship Triathlon with her children.
The next year, Blackwell was among the B2B participants, and she hasn't stopped since. She recruited 11 of her friends to train with her for a July 2010 triathlon in Little Washington, N.C. She surprised them on race day with matching T-shirts and hats that proclaimed them the Pink Ladies. Their numbers grew.
Members choose their level of challenge from walking and workouts to marathons and triathlons. What's important, Blackwell says, is for women to set athletic and health goals and work towards achieving them.
Pink Ladies' officers are role models in leadership and athleticism. Sami Winter, the vice president and treasurer, is a veterinarian and triathlete. She is a trained dancer and former dance instructor. Jane Ellison, the charitable liaison, is a triathlete and ardent fundraiser for the Amani Children's Foundation. She has personally raised more than $18,000 for the foundation to help orphaned and HIV-positive children in Kenya. The Pink Ladies secretary, Elizabeth Hinshaw, also is a triathlete who works part-time as a physical therapist and is active in the community.
In the group's two official years of existence, it has pushed beyond physical exercise to the exercise of members' time and talents in the community. To augment their efforts, the members have enlisted more than 40 local businesses as sponsors.
Each year, the organization adopts a charitable cause, to which it directs members' volunteer efforts as well as the money it raises. The group is finalizing its 501(c)3 status so that donations to Pink Ladies can be tax deductible.
This year, the Pink Ladies' charity is Nourish NC, a New Hanover County-based organization that provides food-filled backpacks on weekends, holidays and vacations for children whose cupboards at home might be bare. The Pink Ladies help the organization in two ways: they volunteer to pack the backpacks every other week during the school year and they provide financial support, thanks in large part to their sponsors.
The Pink Ladies welcomes new members and new sponsors. For more info, visit: www.thepinkladies.org.