Pieces of Persistence
CAM exhibit spotlights female artists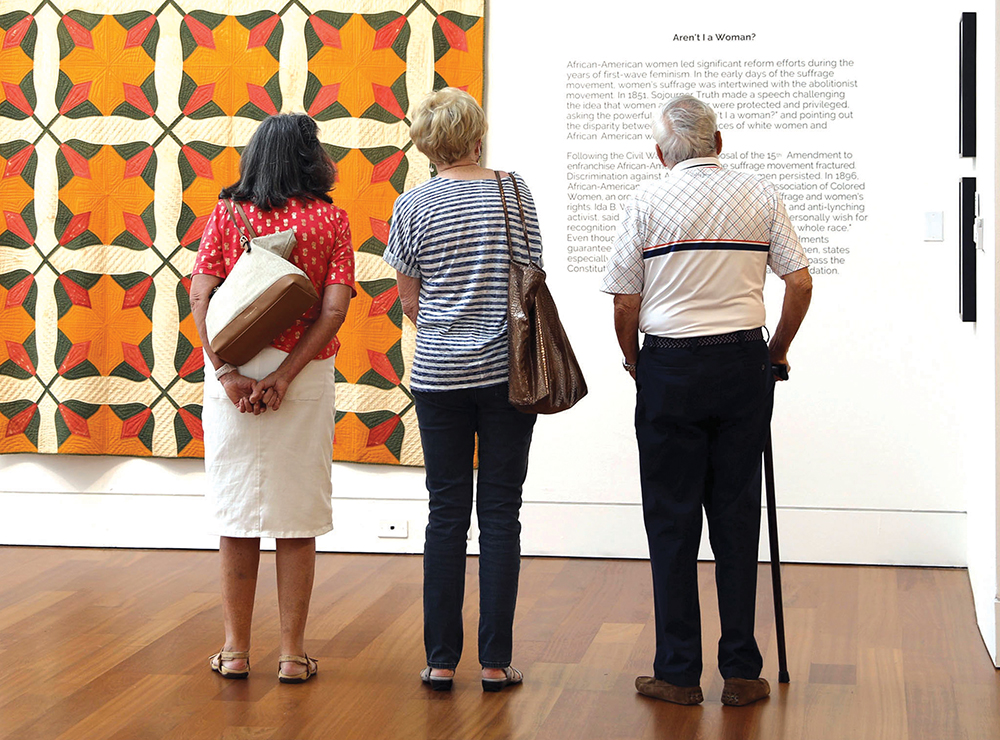 Cameron Art Museum's latest exhibit, She Persists, displays works of female artists who fought for their dreams, stood up for their beliefs, and spoke out for the equal right to vote in one hundred pieces from CAM's 3,000- deep permanent collection.
The exhibit, on display through March, coincides with the 100th anniversary this year of the ratification of the 19th Amendment.
"We wanted to look at the ways in which the women in this exhibition persisted in their own ways – women artists have to overcome so much differently than male artists," museum deputy director HEATHER WILSON says.
"With so many female artists in our collection, I wanted to share with the public works from all walks of life, all races, and all time periods from past to present," curator BOB UNCHESTER says.
Eighty-three-year-old AUDREY FLACK is one. The artist got her start as an abstract expressionist painter, who would often showcase objects of the female world: perfume bottles, lipstick, and Madonnas. She switched to photorealism along the way and was the first photorealist painter whose work was purchased by The Museum of Modern Art. She evolved into a sculptor and has Medea on display in She Persists.
"Audrey Flack is a feminist artist," Wilson says. "She was the first person to be in Janson's History of Art text – both she and MARY CASSATT. Both are in this exhibition."
The exhibition features a handful of impressionist works from Cassatt (1844- 1926), who freezes feminine moments in time, from a woman dressing at the wash bin, to holding a child, to writing a letter, to visiting with friends.
"One of the things I discovered while prepping the exhibit was that Mary was an ardent supporter of suffrage," Wilson says. "She had a suffragist friend she painted, and she was in a couple shows to raise funds for suffrage … She painted what no other artist was: the woman's sphere. She painted women with a woman's gaze, as they were, not as objects – as they were living their lives."
CAM has dedicated an area in She Persists to African American female artists, as well. The exhibit recognizes the ratification of the 15th Amendment, which prevents the denial of voting based on color, race, or previous condition of servitude.
One of Wilmington's most famed artists, MINNIE EVANS (1892-1987), has a multitude of works on display.
"Minnie Evans is a local treasure," Wilson says. "She was the first female artist we acquired at CAM. Art was her calling from God – who gave her visions. She had to do it. At the same time, she had all the circumstances of her life to tend to and take care of, but it didn't stop her from making art."
Evans' work crosses Southern folk art with surrealism, as her pen-and-ink, crayon, and wax images came to life in her dreams before taking shape on paper.
"The women in this show," Wilson says, "had to overcome so much – because of gender, familial responsibilities, and race.
---
She Persists
On exhibit through March 21
CAM, 3201 South 17th Street
Will include monthly outreach programs, such as gallery talks via Zoom, concerts, and more
Info: cameronartmuseum.org
---
To view more of photographer Aris Harding's work, go to arisharding.com.
Want more WILMA? Click here to sign up for our WILMA newsletters and announcements.