Piece by Piece
Brooklyn Arts Center hosts its first quilt show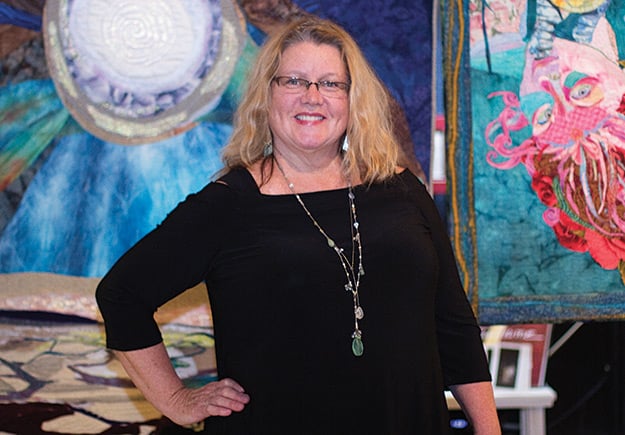 WHEN YOU SEE PATRICIA MATTISON's work on display at the Crescent Moon Art Gallery on North Front Street, you might not immediately think that she's a quilter. Her work focuses on portraiture, particularly of people and pets, but there's a surprising twist – the portraits are all created with fabric. Her work is, in the quilting world, quite different and unexpected.
"I progressed into a unique style," Mattison (above) says. "Fabric collage using glue, often on a canvas. I do more and more art pieces as impressionistic realism with fabric."
Mattison, armed with a rotary cutter and her sewing machine, is working hard to quell those quilting questions. "People don't think of fabric as a medium," she says. "Fabric is a lot of fun. Maybe they only think of grandmas."
Quilting is "sewing" strong in the area with the Quilters by the Sea Guild, a group of Wilmingtonians dedicated to the art of fibers and fabrics. Mattison, a member of the guild, has her hands in getting the Brooklyn Arts Center's "PIECEWORK: QUILTING & FIBER ARTS SHOW" up and running, too. The guild is coming out in full force to showcase its finest quilts and fiber arts work at the BAC this month.
"It is a thing of love," Patricia Mattison says. "Nobody wants it to die out."
In a marketplace and exhibit of both modern and traditional styles, the guild as well as other vendors who make quilts or sell materials catering to quilters will fill the BAC for its first-ever quilt show, according to organizers.
The Quilters by the Sea Guild members will be displaying their work, demonstrating techniques on stage, and hosting a boutique in the upstairs balcony at the BAC. Children are welcome to join in the festivities at the children's corner – where they will learn some easy quilting techniques of their own using foam core boards.
There will also be a three-hour competition called Iron Quilter to get as far as possible in working on a quilt. Attendees can watch the contestants work on stage. An emcee will be put the pressure on and make contestants sweat as they start from a quilt from scratch.
"You'd think it would be in a spirit of fun," Mattison says with a laugh, "but they can be really into it. It's a fun thing to watch – people in process – because you can see what it is to take a fabric and turn it into this product."
Mattison's work will be on display at the showcase, and she will also be participating in the Iron Quilter competition.
"Doing this show at the BAC is a joy," she says, "because the guild does quilt shows, and they want to show their work, but it isn't about making money. It's about displaying the work. We needed to reach a bigger audience. So the question was, 'Are you willing to try something new?' This is a complete break to hang the quilts and have them viewed as art, and people who are coming will see quilters in a new light."