Pharma Career Path
Pam Marinko's firm fills a training niche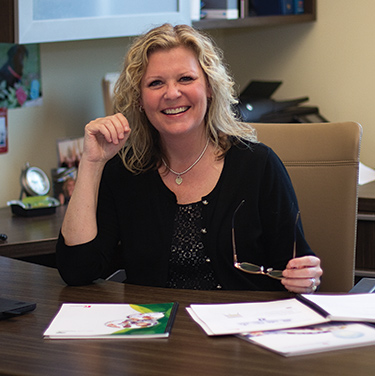 PAM MARINKO is used to handling multiple projects at a time. She's been like that throughout college, her career in pharmaceuticals, and now as owner of PROFICIENT LEARNING, a consulting firm based in Wilmington.
At Ohio State University, she majored in marketing and international business while minoring in computer science and French.
After receiving her bachelor's in business administration, she was eventually recruited by a pharmaceutical company in the Atlanta-metro area.
"I was offered the opportunity to do a developmental rotation in corporate sales at the company's headquarters in Chicago," she says. "This was considered a fast track to management, and the expectation was to serve as a corporate sales trainer for eighteen to twenty-four months and then be promoted to a management role."
Marinko was promoted after completing her rotation but was recruited by another Atlanta-based pharmaceutical company. "I managed corporate field sales trainers and the curriculum that was implemented with all the U.S.-based field sales teams," she says. "During the time that I was in that role, I also had the opportunity to travel to the world headquarters in Brussels, Belgium, and work on several global initiatives." Marinko wouldn't be in one place for long, though.
"After having served in the role for three years, I was recruited to join another pharmaceutical company (AAIPharma, now called Alcami) in Wilmington," Marinko says. "They were launching a commercial division to promote a portfolio of products to clinicians and specifically to hospitals and health systems."
Prior to this time, AAIPharma was purely research and development. Marinko was originally hired to handle the commercial side but was eventually promoted to oversee that and the research and development side of the company as director of professional development.
Eventually, AAIPharma decided to focus on R&D only, leaving Marinko with a decision of her own.
"When AAIPharma made the decision to divest its pharmaceutical division, it was then that I started Proficient Learning," Pam Marinko says.
Marinko launched Proficient Learning in 2005 as a training consulting firm for pharmaceutical and medical device sales professionals. The company's goals quickly grew to encompass more than just sales techniques.
"As we evolved as a company, we continued to expand our mission, recognizing that our ultimate goal is to improve patient outcomes and lives. Every one of our training solutions and programs accomplishes this by improving representatives' skills, enabling them to better inform their customers, who in turn deliver better patient care," Marinko says.
Proficient Learning currently has nineteen full-time employees, as well as several contractors who handle more specialized needs.
In 2010, the Greater Wilmington Business Journal recognized Proficient Learning as the Coastal Entrepreneur Award's Health Care category winner. Marinko remains active in the business community, particularly helping future entrepreneurs.
She is a guest lecturer for sales and marketing classes at the University of North Carolina Wilmington and a mentor for Cameron School of Business' Cameron Executive Network. She currently serves on the curriculum advisory board for UNCW's Entrepreneurship and Business Development program and for the Watson College of Education's Master of Science in Instructional Technology program.
Meanwhile, the company continues to expand.
Last year – in February – Marinko launched an addition, Proficient Learning Interactive.
"At Proficient Learning Interactive, our core focus is on creating mobile technology solutions that enable the sales and management skills that drive sales performance," she says.
The first app launched in June 2015. It's called mCoach, and it is intended to help salespeople improve their performance by providing digital tools that complement the coaching process.
The software is designed using techniques developed by the original company.
"Many of these skills 'best practices' that we build into the technology actually originated in our training programs," Marinko says.
To view more of photographer Terah Wilson's work, go to facebook.com/timelessfotographie.