Paying It Forward
WILMA Dash team makes surprise delivery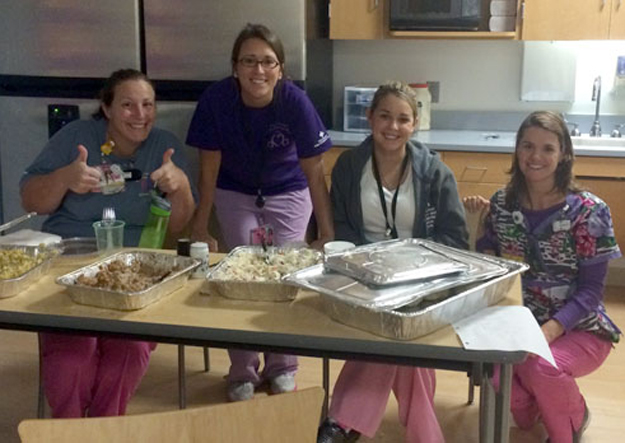 When the Fit4Mom runners – all thirty-five of them – crossed the finish line at May's WILMA Dash 5K, they took honors as the largest team in this year's event and earned a team celebration at Front Street Brewery in the process.
But instead of carrying the party over to the restaurant, Fit4Mom members decided to do something else with their prize.
"Initially we planned to go out to dinner together and enjoy a mom's night out," says Jody Smith, owner and instructor of the Wilmington Area Fit4Mom fitness program who coordinated the team group.
But that didn't quite pan out. Coordinating a night that would work for most of the team proved difficult, and Smith thought instead of turning the prize party into a token of appreciation.
"So I threw out the idea of giving the food away, and the team's response was great. They were all on board," she says. "We had ideas about giving it away randomly on the street or to fire/police/EMS. But because our team was comprised almost entirely of moms – only one woman was not – we've all had some sort of experience with (New Hanover Regional Medical Center's) labor and delivery (unit), and some of our babies even spent time in the NICU, whether here at NHRMC or elsewhere. We all agreed that the (labor and delivery) and NICU nurses do so much for moms and babies, and we wanted to extend a little thank you to them."
Smith says Front Street Brewery jumped on board and worked with the group to help coordinate dinners for the surprise deliveries.
On August 20, Fit4Mom members arrived at the hospital with the packages.
"We arrived in the evening as the night shift was coming in, and many of them said that they overnight workers are often forgotten because special treats and other thank yous are typically delivered during the day, so it was especially appreciated for that reason," Smith says.
In all, the group dropped off meals for about thirty-five nurses and other support staff on two of the hospital floors.
"They all kept asking, 'Why? What is this for?' Smith says, "and when we told them it was just from some moms and babies around Wilmington that wanted to let them know they were appreciated, they really were so thankful."