Park and Buy
On the road with Mushpa + Mensa's mobile boutique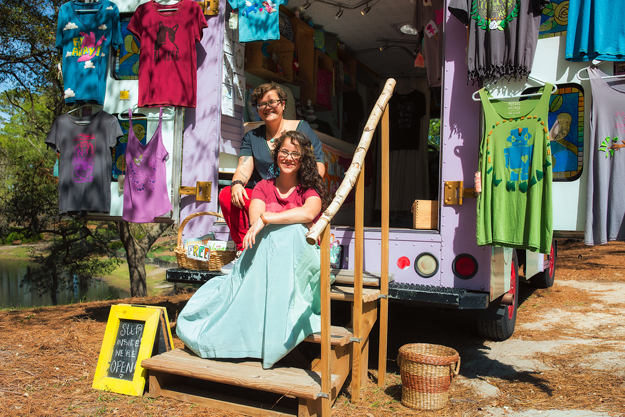 When you see a lavender and pastel blue truck arrive at an event, it's easy to assume that it's another one of Port City's many food trucks. But when the truck doors open, rather than tacos or chicken being on the menu, its creative T-shirts and handcrafted, artsy goodness being served instead.
It's a concept that MARIA-EMILIA BORJA and CARA REYNOLDS knew would fit for their business.
"When we built the truck, we called it Maya the Magical Mobile Art Machine," Borja says. "Because we sell our magic from it; it's our art."
Borja and Reynolds are the artistic entrepreneurs behind Mushpa + Mensa, a mobile, eco-conscious boutique that sells a variety of organic cotton tees and unique, upcycled wares. The Wilmington transplants have thrown their hats into the growing mobile business model but offered an innovative approach with their whimsical, solar-powered vehicle. Funded by more than a hundred Kickstarter supporters and fueled by a vision to contribute to the world on their terms, the duo upfitted the truck themselves.
What was created out of necessity became a part of the owners' calling card but was admittedly a tough sell initially.
"It was a learning curve for us in Wilmington," Reynolds says. "There are food trucks, but when you come up with an art truck – it's a hard concept."
Before migrating south, Reynolds and Borja were living in Manhattan. They met while working for Mutual Housing New York, a nonprofit geared toward providing housing resources for low- and moderate-income residents. Reynolds, who was an IT director at the time, and Borja, a labor organizer, connected immediately on their desires to make a difference.
"We wanted to do something awesome with our lives," says Borja. Reynolds agrees.
"We were like, 'Let's try to do something on our own, not only just give back to the community, but show people that things are possible,'" Reynolds says. "I wanted to be my own boss and give back to the world without the politics and unions."
As it turned out, both had a love for the arts, too, despite pursuing different degree fields in college. The women each had an interest in upcycling. Plus, Reynolds had an affinity for T-shirts that she described as "functional art." Their partnership became official in 2012 when the two launched Mushpa + Mensa – translated as "goofy and goofier" in Quechua and Spanish.
They pride themselves on selling hand-printed tees, toys made from recycled materials like plastic bottle felt, and any other cool creation that comes to mind. Everything is made in limited quantities, freeing them up to create new fanciful pieces of art every few weeks or so.
Armed with a portable tent and table, the twosome carried their wares in suitcases that read 'Musha y Mensa – Ask us what's inside' on the front to drum up attention. In the early days, they trekked to each art fair and flea market by foot and subway. Admittedly, it wasn't the most practical solution, and the two knew they had to come up with a better form of transportation.
That's when the idea of a truck came into play: "We just came up with the idea that food trucks do it. How about art," Borja says.
The artists purchased an old truck and raised $7,300 on Kickstarter to fund its revamp. But that wasn't the hard part. To renovate the truck, they needed a place to work on it and parking it on New York City roads wasn't an option. It just so happened that Reynolds' parents, based in Wallace were more than willing to house the truck. So for three months, the two worked on the vehicle themselves in North Carolina.
From adding the solar panels, installing the paintable wallpaper on the ceiling, and overseeing the installation of the marmoleum floors, the two were a part of every step. Borja's father also flew in from Ecuador to assist. Making it eco-friendly was important to them.
"We tried to take care of the smallest of details … You can't sit there and sell organic cotton and upcycled materials while driving a truck and say we love the environment," Reynolds says.
That's why the two researched how to upfit the truck to be solar powered.
"It's amazing. We run off the sun," Reynolds adds. "We try to keep things legit."
Once the truck was ready to take to the streets, Reynolds and Bora realized that they enjoyed living in the South and decided to take root. Now Mushpa + Mensa is traveling across the state for shows and parties, sharing its products and message and making tons of new friends along the way, which is a currency all its own.
"We'd talk to people for hours who'd come to our truck and really connect," Reynolds says. "We call it 'life money.'"
The two are eager to take their business to the next level. Selling their goods in other stores and even a podcast are on the agenda. But in the meantime, they'd like to cast a wider net and visit more places.
"We've gone all the way to Asheville and to the mountains, but we want to go to Florida with the truck or go left," Reynolds says. "So, we'll see."