Pairing Off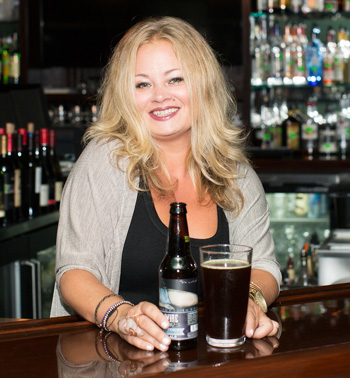 Food and wine go hand in hand, as if they're made to be enjoyed together. A proper pairing brings out the nuances of both the food and wine, enhancing the overall experience.
But what about food and beer?
The rapid rise of the craft beer industry now has led to a new kind of pairing, and beer lovers and chefs alike are embracing the notion that it's okay to drink beer with your dinner.
We asked three local beer purveyors to select a favorite fall beer and partnered them with a local chef tasked with creating a recipe to pair with each beer. Because all three beer purveyors do not serve food on-site, they welcome guests to prepare dishes such as these and gather with friends around their tables to enjoy family-style meals during the cool months ahead.
Brown Ale and Short Ribs
Liberty Tavern, 7976 Market Street, is a full-service bar with a sprawling courtyard and event facility. Live music, food trucks, and a wide selection of beer draw regular crowds to this Ogden gathering space.
Event manager Brandy Moore (above) selected to showcase Bed of Nails brown ale from Hi-Wire Brewing of Asheville. Crafted in the style of a traditional English brown ale, Bed of Nails is brewed with specialty malts that impart flavors of toffee and caramel.
"We've seen more and more women taking an interest in darker beers," Moore says. "And Bed of Nails has been one of the most popular because of its delicacy and complexity."
Chef Lori Eaton, personal chef, caterer, and owner of Eaton At Home, created the following recipe to pair with Bed of Nails. In fact, she even incorporated the beer into the dish.
Bed of Nails Short Ribs over Noodles
(Serves 4)
2½-3 pounds beef short ribs (if using boneless, reduce to 2 pounds)
Ground pepper
Sea salt
2-3 tablespoons olive oil
4 tablespoons unsalted butter
2 cups diced onions
4 ounces diced pancetta
6 minced garlic cloves
1 cup diced celery
1 cup diced parsnips
1 cup diced carrots
2 bottles Bed of Nails
2 tablespoons dark brown sugar
4 cups beef broth
2 bay leaves
2 tablespoons fresh minced rosemary
2 tablespoons fresh thyme
2 tablespoons fresh parsley
12 ounces short pasta (gemelli or egg noodles work nicely)
½ cup shaved Pecorino Romano cheese
DIRECTIONS: Preheat oven to 325°.
Remove short ribs from package and dry with paper towels; sprinkle generously with ground pepper. Heat a Dutch oven over medium-high heat and add olive oil. Sear the ribs gently on the meat sides, until brown, and remove from Dutch oven (set aside on plate).
Reduce heat to medium and add butter. When melted, add diced onions and sauté for 5 minutes, then add pancetta and garlic. Continue to sauté 3-5 minutes until garlic has softened and begins to brown.
Gently pour Bed of Nails into the Dutch oven and bring to a simmer; reduce by half. Add celery, parsnips, and carrots. Pour in beef broth and brown sugar. Stir to incorporate ingredients. Add bay leaves, rosemary, and thyme. Cover and bring to a simmer. Add short ribs. Cover and place in oven, for 2-3 hours, or until ribs are tender.
Prepare pasta, according to instructions. Placed desired amount of pasta on four plates. Top each mound of pasta with vegetables and sauce and a short rib. Sprinkle generously with parsley and cheese.
(Variation: serve over mashed root vegetables or potatoes)
IPA and Citrusy Chicken
The Brewer's Kettle, a bottle shop featuring beer, wine, and fine cigars at 4718 Oleander Drive, carries over 500 beers by the bottle and has eight rotating draft taps. Everything can be enjoyed in the on-site taproom or beer garden.
For his selection, owner Stephen Henson (right) chose Cotton Pickin' Farmhouse IPA from Haw River Farmhouse Ales in Saxapahaw, North Carolina. This copper-toned, Belgian-style pale ale has a strong floral hop presence.
Whole Foods Prepared Foods Team Leader Jon Starcala created the following recipe to pair with the IPA.
Pan-seared Chicken Breast and Citrus Jus
(Serves 4)
4 skin-on boneless chicken breasts
1 pound petite rainbow potatoes, washed
1⁄3 pound carrots, washed and peeled
1⁄3 pound parsnips, washed and peeled
1⁄3 pound sweet potatoes, washed and peeled
3 cups orange juice
Zest of 1 orange
4 teaspoons kosher salt
4 teaspoons black pepper
¼ cup shredded Parmesan cheese
4 teaspoons truffle oil
½ cup olive oil, divided
DIRECTIONS: Preheat oven to 350°.
In a small saucepan over medium-low heat, combine orange juice, half the orange zest, and a pinch of salt and pepper. Simmer until liquid is reduced by half.
In another small pot, cover rainbow potatoes with water and simmer until potatoes are tender, about 8-10 minutes. Strain potatoes and chill in an ice bath or refrigerator. Medium dice carrots, parsnips, and sweet potatoes – about 1½ cups each. In a mixing bowl, toss the root vegetables with 2 ounces of olive oil and a pinch of salt and pepper. Place on baking sheet and roast until tender and golden, about 15-20 minutes.
Place a large oven-safe frying pan over medium-high heat; add oil. Season chicken breast with salt and pepper and place skin side down in pan. Sear chicken until the skin is crispy and slightly browned, about 3-4 minutes. Flip chicken over and spoon a small amount of citrus jus reduction over top. Hold onto the remaining citrus jus reduction.
Place chicken in oven and cook until it reaches an internal temperature of 165 degrees, about 20 minutes depending on the size of chicken breasts.
After rainbow potatoes are cooled, cut in half. In a small frying pan heat one ounce olive oil over medium-high heat. Add potatoes to pan and cook until crispy and slightly browned. In a mixing bowl, toss with Parmesan cheese, truffle oil, and a pinch of salt and pepper.
When chicken is fully cooked, remove from oven and allow to rest for a few minutes. After chicken has rested slice across the breast. Place root vegetables, potatoes, and sliced chicken breast on a plate. Drizzle remaining citrus jus and top with the remaining orange zest.
"The citrus jus highlights the IPA's sweet and citrusy notes," Starcala says.
Red Ale and Mediterranean Wrap
Flytrap Brewery, co-owned by Emily (left) and Mike Barlas, is a downtown brewery at 319 Walnut Street specializing in Belgian and American style ales.
Emily Barlas selected Rehder's Red Ale, a beer named for longtime local Venus flytrap preservationist Stanley Rehder, to be paired with a dish from chef Alex Walton of Flying Pi Kitchen, located near the brewery at 402 Chestnut Street.
Walton created the Mediterranean Chicken Wrap to complement the mild hops and crisp finish of Rehder's Red Ale.
Mediterranean Chicken Wrap
(Serves 4)
½ cup fig-infused balsamic vinegar
4 boneless chicken breasts
4 spinach wraps
8 tablespoons lemon-artichoke hummus (available at Whole Foods)
4 tablespoons olive tapenade (available at Whole Foods)
2-4 portobello mushrooms, cleaned
16 slices of fire roasted red peppers
4 leaves romaine lettuce
Salt, pepper, garlic powder, Greek oregano and thyme (to taste)
Feta cheese (to taste)
DIRECTIONS: Preheat oven to 350°.
Pour fig-infused balsamic vinegar into a small saucepan and reduce over very low heat until thick and sweet (about 55-75 minutes).
Place four boneless, skinless chicken breasts into a glass baking dish and drizzle lightly with olive oil; then sprinkle with salt, pepper, garlic powder, a dash of Greek oregano, and a generous sprinkle of thyme.
Place chicken in oven and cook until it reaches an internal temperature of 165 degrees, about 20 minutes depending on the size of chicken breasts. Cool chicken for 15 minutes and slice into half-inch wide strips.
Steam 2-4 (depending on size) portobello mushrooms for 15 minutes with the tops of the mushrooms facing upward. There is no need to remove the stem. Once steamed, slice the mushrooms into half-inch wide strips (similar to the size of the chicken slices) and place into a large mixing bowl. Add olive oil, a few splashes of fig-infused balsamic vinegar (not reduced), and mix with salt, pepper, and garlic.
To assemble the wrap: Spread lemon-artichoke hummus across the wrap; top with olive tapenade and romaine lettuce.
Place chicken, seasoned mushrooms, roasted red peppers, and feta cheese on top of the lettuce and drizzle with one teaspoon reduced balsamic vinegar before rolling up the wrap.