P-E-N-G-O
Weekly event adds music spin to bingo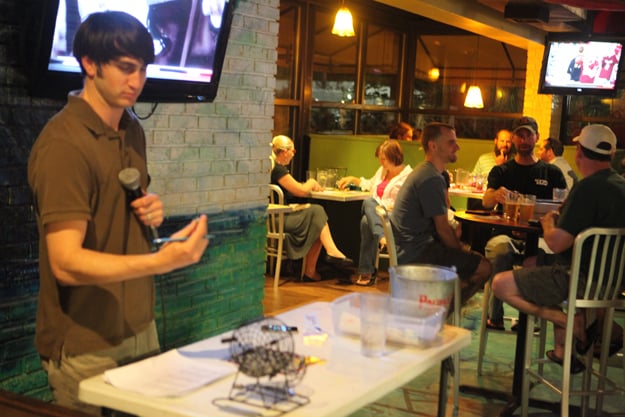 Arriving early on a Monday night, my roommate Regan Bailey and I secure a table in the bar area of Oleander Drive's MELLOW MUSHROOM.
BEAU GUNN, former radio personality and current general manager of Hometown Wilmington Media and program director of The Penguin (98.3 FM) radio station, is setting up a table for Pengo – The Penguin's version of bingo, featuring band names being called out instead of letter-number combinations.
The prizes for Pengo are concert tickets, which makes the event a popular Monday night destination for music lovers in the Port City.
As soon as Gunn sets out a basket of laminated Pengo cards and a small metal beer bucket full of dry erase markers, the chaos begins. People line up to pick their cards, and a clear division is already being made.
Some casually grab whatever card is on top of the pile, but most carefully sift through the pile of cards, looking for the lucky one.
"This is the most stressful part of the evening," one player says, walking away with a card.
"I pick the card with the best bands on it," says Whitney Lanier as she digs for a card with Dave Matthews Band, which was her first live concert.
Some of the players say it's too stressful to search and advise us to pick randomly.
"It's stressful regardless," Bailey says, staring at her card with Phish, Bob Marley, and the Grateful Dead.
Some take Pengo very seriously. Bailey bans talking at our table during the game so she won't miss any bands being called.
Although Gunn picks the bands randomly from a cage filled with numbered white balls – each number corresponds to a band that can be heard on The Penguin – some players insist certain bands get called out more, and some even pick their cards based on that hunch.
The crowd at Pengo is fairly seasonal, Gunn says, with attendance picking up in summer as there are more, higher-quality tickets to give away. It also gets busier in December when there are usually high-demand New Year's Eve tickets up for grabs.
As it nears eight o'clock, the bar area is packed, and players fill tables in the restaurant area as well, trying to listen over the noisy crowd via speakers placed throughout the large room.
"I never thought Pengo would take off like this," says Gunn, who started the event about four years ago and remains the main host.
"It's become a very social event," he says, pointing out some regulars who attend pretty much every week.
Jeff LaValley is one of those regulars.
He says he's won tickets about six times in maybe a year and a half of attending on a nearly weekly basis.
"It's a good way to avoid a case of the Mondays," he says. The friends packed around his table laugh and roll their eyes. Jeff shrugs, "Well, it's a good, cheap thing to do."
To view more of photographer Bryce Lafoon's work, go to www.brycelafoonphotography.com.