Opening Credits
The NC Black Film Festival expands to monthly screenings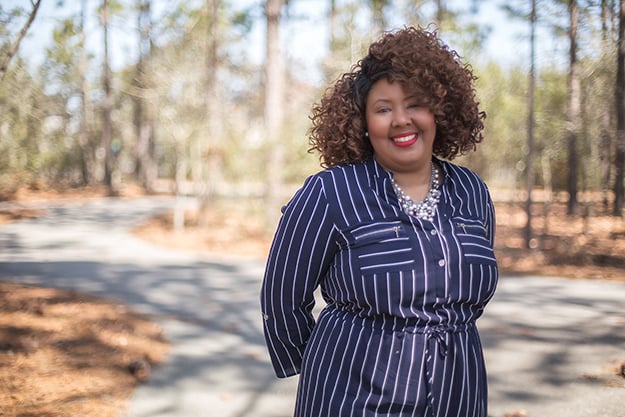 This month, the NC BLACK FILM FESTIVAL continues its monthly film screening series with The Girls in the Band, showing March 29 at Jengo's Playhouse.
This 2011 documentary chronicles the fight of female jazz musicians and performers to be taken seriously, from the 1930s through today. A darling of the independent film festival circuit at the time of its release, The Girls in the Band was described in The New York Times as "engaging, informative, thorough and brimming with delightful characters."
The film series is a new addition to the calendar for the Black Arts Alliance, and something CHARLON TURNER (above), director of the NC Black Film Festival, has wanted to do for a while. It's just one of the changes she's made in her tenure as festival director since she took over for founder Rhonda Bellamy a few years ago.
"This film series is something I've been wanting to do for the last couple years, I think it's a great way to lead up to the festival and to keep people engaged," Turner says.
Over the four days of the September festival, audiences have a chance to see some amazing films that might fly under the radar, and filmmakers compete to win awards for best feature, short, animation, or documentary. Other changes in the past few years have included the popular Fashion in Film night, a showcase of local designers, adding a student category to the festival's lineup, and partnering with other local groups such as the Wilmington Jewish Film Festival.
It's been a stellar year already for breakout African-American directors and actor, with the names Ryan Coogler (Black Panther), Jordan Peele (Get Out), and Ava DuVernay (A Wrinkle in Time) making waves at the box office. But, Turner says the other names she'd watch out for on the independent field are people such as Pete Chatmon, who recently directed episodes of Insecure and Black-ish; Anthony Hemingway, who has several TV projects coming out in 2018; and Brittany Fennell, whose short film Q.U.E.E.N showed at both Sundance and the Cannes Short Film Corner.
Turner points out that despite the commercial success of films such as Black Panther, hearing stories from black independent filmmakers remains paramount.
"We don't always get the accolades we deserve, and even as the industry becomes more fair and inclusive, it's still important for us to share our perspective. We want to see African-Americans in sci-fi movies; we want to see them in horror movies; we want to see them in different genres," Turner says. "Telling history is always important to me, because it's often clouded. You think slavery and civil rights, and you think that's all African-Americans have done. But we've contributed in so many greater ways.
"Even though Black Panther and Wakanda is a fantasy, it also represents some of the things that have come from Africa that we don't get to see," she adds, "and it's important we get to see those things, because black people are so vast and complex and interesting and not in this box we tend to get put in."
For more information on upcoming films in the screening series, or volunteer opportunities with the festival, go to blackartsalliance.org
To view more of photographer Chris Brehmer's work, visit www.chrisbrehmerphotography.com
The Girls in the Band
Jengo's Playhouse, 815 Princess Street
6 p.m., March 29
Tickets are $10; click here for info and to buy tickets