One of These Days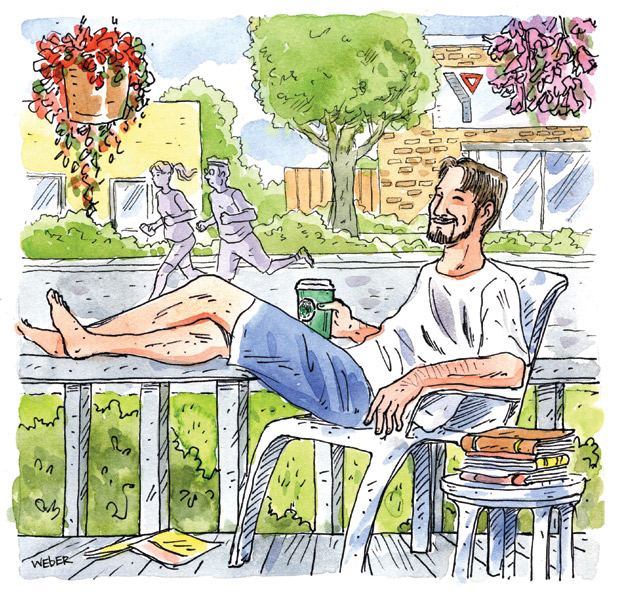 I pay the YMCA $36 a month for membership. I literally live across the street from the YMCA. I've worked out at the YMCA twice over the past six months – it was two days in a row.
Am I too busy to workout, or am I just plain lazy? The answer is somewhere in between …
Nearly four years ago I moved to Wilmington for a change of pace; fourteen years in NYC deserves a little respite. I was not in excellent shape or the picture of health before moving down South, but I was thin. (Secret: New-York-thin is pretty easy to accomplish in a city where you walk everywhere and never have enough money to eat.)
I headed south with high hopes of slowing down my life, making some positive changes, and eliminating a few bothersome habits. Hey, I quit smoking after a fifteen-year run! But my goodbye to Camel Lights meant a big hello to bowls of ice cream and extra large iced coffees sticky with simple syrup. Outside of New York I at least burned calories walking to Starbucks, but in Wilmington I can indulge without ever leaving my car.
As my inseam expanded, so did my life. Things got easier, I got happier, and opportunity came knocking. Hard. I moved to Wilmington on a whim – I knew one person and had no job. Now, I have two careers that I love; friends so wonderful I hardly feel worthy; and a new lease on life that demands I nurture my body as well as my soul.
But I don't do it.
Working out is like getting up in the middle of the night to pee – I try so hard to talk myself out of it and just fall back asleep, but after I finally get up to do it, I feel much better. I've never gotten off a treadmill after running three miles and said, "Gee, that was a bad idea."
I'm just so good at justifying not getting on the treadmill in the first place.
Have you ever had the co-worker who is constantly telling you how busy she is? That person is the worst! We are all busy. Well, that person lives in my head and speaks to me in my own voice: "Christopher, you're so good, you put everyone first, your job is so important, you need to rest, give yourself a break, eat the peanut butter pie in the fridge and catch up on television, everyone is crazy about this True Detective show, they have time to watch it and so should you!"
Stop!
I often say to myself that when I make enough money I will lose one of my careers, hire a personal trainer, and finally make time to be healthy. The "do it later" philosophy doesn't work when I apply it to other areas of my life, so why this?
OK, my blindingly white legs and I are headed across the street to get the heart rate up. I'll let you know how it goes …