One decade later: A founder's reflections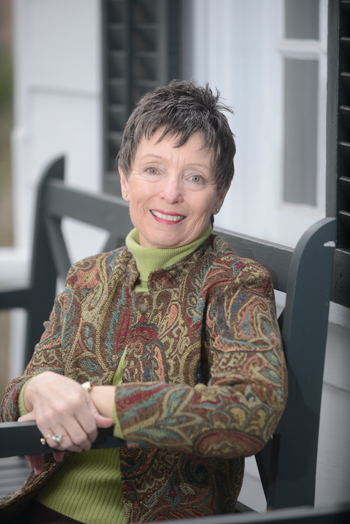 On a whim, founding publisher Joy Allen came up with the name WILMA. Another name that got kicked around was Gal.
But WILMA stuck.
It's cute, and it's a little bit funny, and it just works. It's short. It's easy to remember," Allen says about the WILMA masthead.
She launched the magazine in February 2003 with a small budget that covered only the printing cost and a launch party, she says. The editorial and sales staff was already in place through the Greater Wilmington Business Journal, which she had begun three years earlier.
Allen stumbled upon the Port City in 1992 on a trip with a former partner. Originally from New Orleans, she was looking for an opportunity to return to the South after working as a graphic designer in New York City for eleven years.
"I remember driving into town on Market Street on that first stretch and how awful and ugly it was. And then a canopy of oak trees appeared, and I got so excited," she says.
She bought a house in the historic downtown area, renovated it, and moved there permanently in 1995.
"There were even fewer jobs back then in Wilmington. I had to create my own opportunity," she says. "This place is a hotbed for entrepreneurs, because people love it here and have to find a way to make a living."
She was looking for an additional revenue stream for her publishing company. She knew local women's magazines were successful in other cities and that Wilmington had a plethora of stories to tell.
At that time, business was booming, and development was rampant in the area.
"What really inspired me was the community… There were a lot of women who were really accomplished, who had stories to tell and wanted to share their successes and talents," she says.
From the ground up
Allen and her staff spent hours brainstorming and developing the magazine's concept.
Their initial vision called for a magazine "for women, by women, and about women."
Each cover featured artwork by a local female artist. Each issue aimed to celebrate the diversity in age, race, and socio-economic background of women in Wilmington.
She recalls publishing a story entitled "Seven who survived" about local women who had overcome adversity such as surviving cancer or a plane crash. She also remembers printing a story about women and alcoholism.
"We were very adamant that it not be fluff but serious, well written, and not like national women's magazines," she says.
Despite the seriousness of the content, she recalls the office culture was fun and light-hearted.
"Any deadline-oriented business is stressful," she says. So, "we joked around a lot. I'm a prankster."
To get through the most stressful times, they also ate a lot of chocolate.
She remembers the first time she sent the magazine to the printer over the Internet.
Previously, the graphic designer would drive a CD with the pages of the magazine to the
printing company.
"The first time we sent it off through the Internet, and someone wasn't there to proof it, it was really scary," she says.
Turning point
Two years after launching the publication, Allen hired Clove Marketing to gather feedback from the community through focus groups about the magazine.
"They concluded we should go to a glossy format," she says.
WILMA featured its first glossy cover in the November 2005 issue.
It was around this time when Allen began to struggle with how to maintain her own sense of editorial integrity while appealing to the masses.
"I was continually gratified by the response we had but probably could have sold more advertising. My vision limited my commercial success," she says. "It's easy for an entrepreneur to think that what appeals to them is going to sell."
She says she was never able to fully reconcile this. But part of the publication's success came from the diversity of women the magazine profiled.
"The people we wrote stories about generated readership based on their personal networks," she says.
She sold both publications in 2007 to pursue other interests. Current publisher Rob Kaiser bought the publications and has grown WILMA's readership as well as added several community events for readers and supporters.
Catching Up:
WILMA magazine founder Joy Allen is now the first executive director of the National Society of Colonial Dames of America in the state of North Carolina.
The women's organization, headquartered in Wilmington's Burgwin-Wright House, has about 1,700 members – all of whom have ancestors who played a significant role in colonial America. The North Carolina chapter formed in 1894 and owns four historic properties throughout the state.
Additionally, Allen consults for the U.S. Green Building Council's North Carolina Chapter.
She still lives in her renovated downtown home and is working on a novel set in New Orleans about a young girl in the 1960s.
To view more of photographer Jeff Janowski's work, go to www.jeffjanowski.com.