On the Road, Again
The flip side of being a travel writer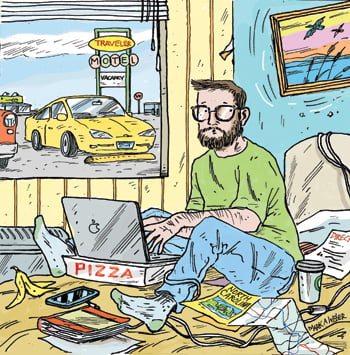 Jason Frye is a travel writer and editor in Wilmington. His guidebooks – Moon North Carolina and Moon North Carolina Coast – are available through Amazon and in stores. Follow his adventures at tarheeltourist.com.
In March, I put about 1,500 miles on the car. In April, it was more like 2,500. And May? Well, I'm writing this at the first of May, and this month I'll be on the road somewhere in the neighborhood of 1,700 miles driving and 1,300 miles flying, and I'll spend just under two weeks away from home.
I'm a travel writer, and all these hours of windshield time, well, they're half the job.
Last year I had the opportunity to send a book proposal to Moon, a travel guide publisher looking to update its North Carolina guidebook.
At the time, I didn't know what I'd gotten myself into.
I know what you're all thinking because it's what a lot of my friends and family were thinking when they heard I was writing a travel guide: It's like a permanent vacation but with some writing thrown in, right?
Wrong. And that's just the first of many myths and misconceptions centered on what I do.
Vacation+Writer=Travel Writer
Yes, I travel, and yes, I write, but it's much more than hitting the road and keeping a diary. For the guidebook – which was a comprehensive guide to the WHOLE state of North Carolina – I was expected to be an expert on every city, town, festival, event, and activity in every corner of the state, even though I spent only a few days in key destinations and explored the rest as best I could.
But you love to write, so it's easy for you.
The writing part is easy – I go somewhere, I experience something, I take some time to translate it into appealing language that will hopefully entice visitors to have a similar experience. It's the little stuff that kills you. It's the late nights on the Internet trying to find room rates or a restaurant's hours, making call after call to confirm phone numbers, then formatting it all for the publisher.
I bet you stay in some really nice hotels for free, though.
Sometimes I do get to stay at a premier property or a brand new boutique hotel. Other times, I'm at a low-end chain next to the ice machine or the service laundry, or I have some enthusiastic and vocal neighbors (if you know what I mean, wink, wink, nudge, nudge). There's no desk and not enough outlets to charge my phone, camera, and laptop. I end up writing on the bed, scooting the one chair over as close to the corner as I can and writing until my laptop's close to dead, and then I unplug my phone and charge my laptop instead. All this at 10 or 11p.m. the night before a daybreak vineyard walk.
But most of all, I miss my wife, Wilmington, my life. I miss petting the cat and mowing the grass (if you read this, don't tell Lauren I said that). I miss my own bed and a home-cooked meal.
In On the Road, Jack Kerouac said, "The road must eventually lead to the whole world." He's right, it does. The road takes you out into the unknown just around the corner, but just the same, it leads you back to your little house in your little subdivision where your whole world – your wife, your cat, your collection of books, the art you hung on the walls – waits for you, and that's just as exciting.
To view more of illustrator Mark Weber's work go to www.markweberart.blogspot.com.