On the Block
Creating a new name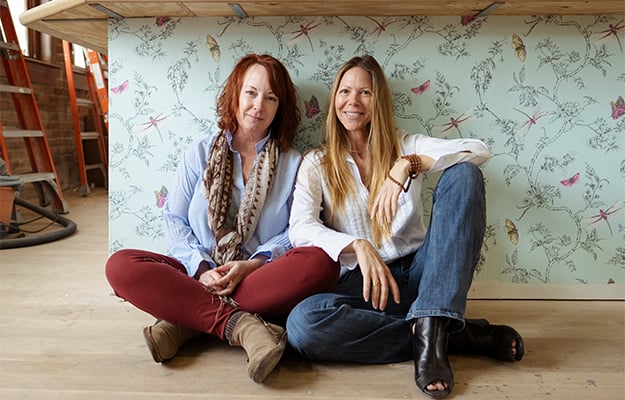 Take the leap, do good work, and always leave things better than you found them," says JAMIE SCHAIBLE, managing director of ARRIVE WILMINGTON, a boutique hotel getting ready to open in downtown Wilmington.
And, Schaible has been doing just that since she started in the hospitality industry twenty years ago. Schaible is a California native who in January 2018 met Noah Ellis, COO of ARRIVE Hotels & Restaurants, a Los Angeles-based developer and operator of boutique hotels and restaurants.
After six months of building a professional relationship with Ellis through causal networking meetings while working on another project in Palm Springs, California, she took a five-week road trip to Jasper National Park in Canada, during which she realized that she was being offered a special opportunity with ARRIVE and decided to take the leap.
A week later, she was in Wilmington viewing the building project.
"The minute I stepped off the plane, it was like I stepped into a movie filled with gushing Southern hospitality, exquisite and unique historical designs, and thriving natural beauty," Schaible says, adding that moving to Wilmington was no small decision, but those things confirmed it was the right one.
ARRIVE founders Chris Pardo, Peter Karpinski, Ezra Callahan, and Matt Steinberg wanted to build places designed to share what makes a neighborhood special with locals and visitors alike.
After years of refinement, the idea was finally brought to life in 2016, when the first ARRIVE hotel opened in Palm Springs.
"The idea behind ARRIVE is that the very best travel experiences are those that allow you to integrate into a neighborhood. When the team saw that The Wilmingtonian inn was up for sale, they knew its location and intimate size would be the perfect place," says Jamie Schaible, managing director of ARRIVE WILMINGTON.
After an extensive renovation that started over a year ago at the property at 101 South Second Street, officials are nearing an opening date.
The fifty-room boutique hotel, which is made up of four different buildings, will have a "rolling opening" starting in May, officials say.
"ARRIVE is all about low-key luxury, which means we focus on thoughtful design and care about getting the little things right," Schaible says.
The hotel will feature a cozy garden with a gazebo bar offering sips and snacks, firepits, and even a confessional.
ARRIVE Wilmington's team is one of a kind, and women have a strong presence in the executive staff with Schaible.
KAT MYHAND is the executive chef and general manager of Dram Yard, the thirty-six-seat restaurant that will be located there.
Schaible and Myhand work closely to carry out the vision for ARRIVE Wilmington.
Myhand recalls how she found the ARRIVE opportunity by answering an obscure ad on Craigslist unlike anything she had read before.
"They were seeking F&B professionals that had a heightened sense of adventure and required the ability to remain fluid. I composed a cover letter in the format of a recipe. My initial ingredients read: True Grit, Passion for People, Energy and Focus, Optimism and Empathy," Myhand recalls.
She has a large role in the goal of providing a unique guest experience.
"We're creating not just a restaurant for locals, but also a beautiful outdoor space with drinks and snacks that's a juxtaposition of everything that's happening on Front Street," Myhand says about the property at the corner of Second and Dock streets. "We want to share what makes our neighborhood special with locals and visitors alike."
Myhand says she is most excited about how the restaurant will have a local feel but call back to foods from around the world. Their thoughtfully sourced food choices will highlight a menu that "pings around the globe."
The team's main focus is about creating moments of discovery for their guests.
"When the community here embraces it," Myhand says, "tourists who want to experience the neighborhood in the same way that locals do will naturally come to it."
One thing that makes ARRIVE Wilmington unique is the attention given to diversity, sustainability, and inclusivity from the food chosen to the staff hired and ethical practices.
"Many of the properties set to open this year and next will have women leaders," Schaible says, "and it's exciting and inspirational.
To view more of photographer Kevin Kleitches work, go to kevintitusphoto.com.
Want more WILMA? Click here to sign up for our WILMA newsletters and announcements.