On Paper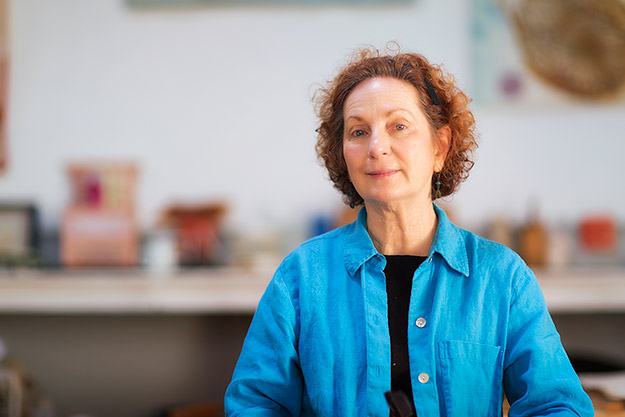 Local artist Fritzi Huber uses motion as an inspiration in her pieces.
Born into a multi-generational circus family, Huber was in constant motion as a childhood performer as an aerial artist. She also was in constant motion as her family was often on the road, traveling to whatever new destination they'd be performing at that evening.
Once they reached a certain age, her parents gave her and her brother the option to stay with the circus or to leave and find their own paths. After high school Huber made the choice to shift her attention from performance art to visual arts, working in a variety of mediums – from collage to sculpture – and has been a papermaker for the past thirty years.
Huber's latest focus has been on rare treasures found floating at the water's edge.
"The shore receives arrivals of all sorts every day," she says. "Debris from Japan has begun to show a presence after crossing an ocean. The knowledge that we are one world comes home to us."
Huber finds that living in Wilmington near the ocean often inspires her work. She finds a comfort that dates back to her days in the circus in being surrounded by water.
"Water was a rare commodity growing up traveling in the circus," she says. "You are always aware of where the water is, the quality, and how you dispose of it. It's all about rationing. Whenever I am near a place that is water rich, I need to be close to that water source."
Huber found handmade paper to be an ideal medium for expressing these feelings.
"In its formation it is liquid," Huber says. "Once formed it always contains a percentage of water … anything floating in the vat becomes part of the sheet, emerging as shells do through the sand."
Her current exhibit pieces at New Elements Gallery reflect this sentiment of found treasures collaged and reworked to showcase their beauty in a new light. One treasure find includes a handmade East Indian quilt made of saris that Huber came across when browsing The Salvation Army thrift store off of Third Street downtown. Huber used pieces of the saris in her work.
"I wanted (the piece) to speak of age but didn't want a dark palette. I wanted to bring out the beautiful blues, green, and turquoises … to create a sensibility of emerging and bleeding out of color," Huber says.
She often uses embossing to show things emerge on the surface through the use of intentional bleed-through. Her exhibit at New Elements Gallery, Venerated Surfaces, also includes work from her longtime friend Hiroshi Sueyoshi.
Huber uses her skills to reach out to the community. She is an artist in-residence at DREAMS of Wilmington, an after-school arts program for at-risk children, having given her time there for the past thirteen years.
Her next project is attending No Boundaries, a two-week experience at Bald Head Island that provides artists from the local community and from around the world the opportunity to blend cultures and work alongside one another.
"This is great opportunity to tie artists into the community and help unite artists," Huber says. "Art is so self-focused anyway."
To view more of photographer Chris Brehmer's work, go to www.chrisbrehmerphotography.com/