On a Kick
Kelsey Carr combines love of martial arts and teaching classes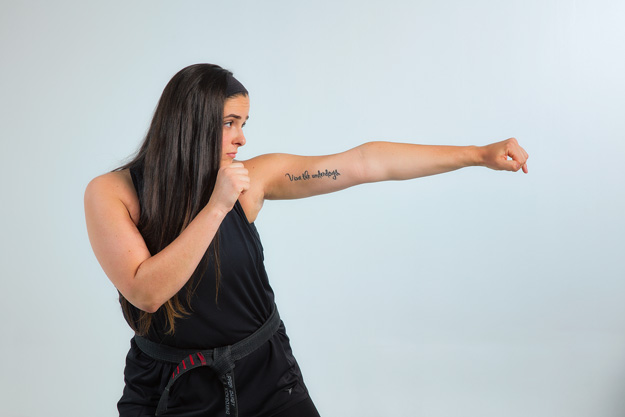 It was around age one or two, not long after she got the walking thing down, when KELSEY CARR started kickboxing. Her father's prodigy, she was his model student who by the age of twelve was teaching underprivileged kids the skill at her dad's downtown gym outside Philadelphia.
Carr, a certified first-degree black belt in martial arts made her way to Wilmington last year to be near her sister and the beach. She's now kick'n it and taking names. Carr teaches a weekly kickboxing class called "Wilmington Warriors" at Terra Sol Sanctuary on Tuesday nights.
"I really wanted to bring something like this to Wilmington and empower women in particular, but it's really for anyone. Everyone should know how to defend themselves," Carr says.
Kickboxing can tone the entire body, burn around 750 calories per hour, get rid of stubborn belly fat, improve self-confidence, posture, discipline and coordination, and boost energy levels. Carr uses the Tang Soo Do technique made famous by Chuck Norris where forms are learned over time with an emphasize on street fighting aspects.
"Trust in the process, it's not something you're going to learn overnight. Get the basics down first," she advises.
A good, solid front snap kick, for example Carr says, can turn into one heck of a jumping front snap.
Growing up, kickboxing was a way of life for Carr. Her mom, a talented drummer and folk artist was her rock, her biggest cheerleader, and chauffeur, driving to endless practices. At school, boys would often challenge the girl who called herself a kickboxer. It didn't go well for them.
"Parents would come up to my dad complaining they didn't want his daughter fighting their boys. I guess I kind of didn't realize my strength," Carr says.
Dad, Andy Carr, a former USA Boxing team fighter and fourth-degree black belt said no to his daughter entering the fighting circuit. Instead, he put her in school talent shows to show off her skills.
Kelsey Carr does have five official fights under her belt she got while obtaining her black belt. It required a weekend of special training with Navy Seals in the wilderness of Maryland.
"We had to blindfold ourselves and listen to the beat of a drum while trying to find our way through the woods just using our senses," she says.
A love for teaching also came young when at age twelve, she got to lead the class of underprivileged kids that her dad had let in for free.
"They would really look forward to coming," she says.
Now well aware of her own strength, Kelsey Carr enjoys watching her new Wilmington students find theirs.
"I think they're just amazed at how empowering this is. A lot of them have never thrown a punch in their lives," she says.
Big sister, Kristy Holt – not a kickboxer, but rather the owner of Wilmington's Eco Chic Blossoms – is a big reason Carr and her best friend moved to Wilmington. Carr's Tuesday night Wilmington Warriors classes at Terra Sol Sanctuary (507 Castle Street) are just $10 per class.
For more on Kelsey Carr's martial arts background and move to Wilmington, check out her Take 5 profile in May's issue.