October's Men's Room
Interview with business writer Neil Cotiaux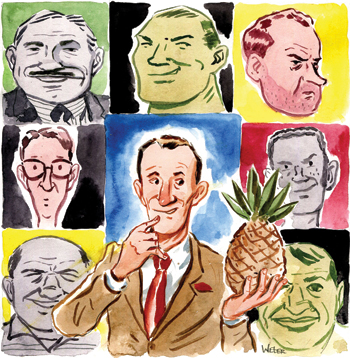 Neil Cotiaux is a Wilmington-based writer who contributes to the Greater Wilmington Business Journal and other business publications around the country.
Heads up! There's a new way for women to size up their partner.
A watershed piece of research – inextricably buried on page B-7 of The Wall Street Journal – could be a game-changer in terms of a couple's relationship.
Researchers at the University of California-Riverside, London Business School, and Columbia University who asked male study participants to simulate business negotiations discovered that those with wide faces (defined as a larger "facial-width-to-facial-height ratio") snagged a signing bonus $2,200 higher than guys with narrower mugs.
In another simulation, wide-faced gents successfully sold some hypothetical real estate for a higher price – and also bought it at a lower price – than those with thinner visages.
If you're the partner of a wide-faced man, sounds good, right? Looks like he'll bring home that bacon after all. But don't count the bling quite yet: Past studies have also linked these men to a greater propensity for aggressiveness, unethical behavior, and trysts.
If the man of your dreams does indeed possess the kind of face mentioned in these studies, you might want to go easy on him. While he's bound to lap up kudos for being a lion at the negotiating table, remember that he's innocent until proven guilty on those, um, less desirable traits.
If you're worried about your man's proclivities, watch for these telltale signs: He starts calling that wide-faced charmer, Vladimir Putin, "Comrade". He laments how truly misunderstood that presidential thick-face, Richard Nixon, has been all these years. Or he carefully crops his bio shot on the company website.
In my own home, it's been nothing but blue skies since the Journal's article appeared. That's because our daughter sized me up at a very early age and dubbed me "Pineapple Head," a cute sobriquet that always made me wince but, thanks to new research, now shows me to be even-tempered, ethical, and faithful.
There persists, however, the matter of my clumsiness in negotiating. The lead author of the study, Michael Haselhuhn, told the Journal it's possible that men with wider faces may work to tone down their testosterone during negotiations (a/k/a the "spider to the fly" tactic). And he implied that guys like me may try to off-load negotiations to our wives. Of course, there's absolutely no precedent for that type of activity, is there?
We negotiate everyday whether we think about it or not, Haselhuhn says. "It's not just the big things, like a car or a home," he explains. "It's what time your kid is going to go to bed or what you or your spouse are going to have for dinner."
That last one certainly puts things in perspective for me. After all, it's my better half who leads me through our favorite restaurant's menu most Fridays and orders just in time for us to avoid being locked inside overnight.
Well, at least there's some Sutter Home for me to nurse as she ponders "our" decision.
To view more of illustrator Mark Weber's work, go to www.markweberart.blogspot.com