October Spotlight
Spotlight on area women making news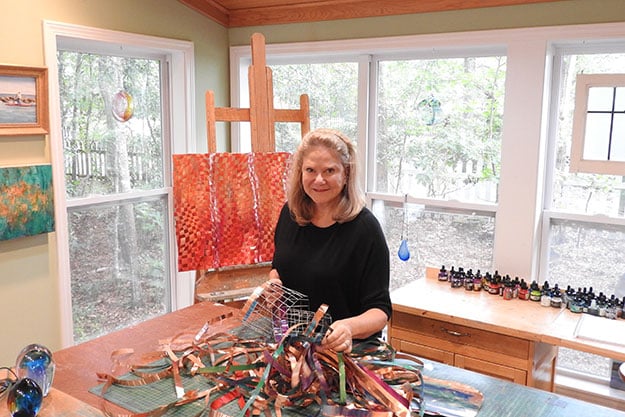 Experimetal Exhibit Opens This Month
Wilmington painter and metal artist GAIL SMITH will showcase her woven copper tapestries in a new exhibit that opens this month. The ExperiMetal exhibit runs through October 27 at Art in Bloom Gallery.
"ExperiMetal is my journey of delving into techniques and materials to transform metal into contemporary art forms," Smith says. "I'm enjoying exploring with a wide range of materials such as recycled fishing nets, galvanized metal fencing, copper wire, and anything else that I can weave into. This exhibit gives me the opportunity to expand my creative journey."
Smith started using copper panels as her canvas for oil painting about four years ago. While cutting the copper sheets, she started playing around with the leftover strips and weaving them into sculptural designs.
For the exhibit, Smith also collaborated with ALICE BLAKE POWELL, a costume designer in the film industry, to create a wearable art dress for the opening reception (October 6) made from about 500 copper strips Smith wove together that were attached to fabric. It will be on display as a piece in the gallery throughout the exhibit. Info: www.aibgallery.com
–Vicky Janowski
McWhorter Starts as Head of SBTDC Office
HEATHER WHORTER began this summer as the new regional director for the Small Business and Technology Development Center (SBTDC). She was hired to replace Fran Scarlett, the previous director, who left the position in November after about seven years.
The SBTDC offers personalized business counseling and strategy development services in New Hanover, Brunswick, Pender, Columbus, Duplin, and Onslow counties, according to its website. The center is connected with the University of North Carolina Wilmington and the Cameron School of Business.
"One of the reasons that I'm here is to take everything that I've learned to date over my career and to transform it into something new and exciting," McWhorter says about her new role.
She came to the Wilmington area from central Pennsylvania, where she served as director of Penn State's Small Business Development Center for eight years, as well as the leader in the university's Entrepreneurship and Economic Development Outreach Initiatives. Prior to that, she served the university's Small Business Center as an environmental consultant and established those services at the center.
She also previously worked for MTS Technologies, based out of Washington D.C., consulting for the military and NASA to help them solve environmental issues.
–Christina Haley O'Neal
Group Plans Talk on Race, Women's Issues
A new retreat is being put together for January with the idea to bring women together for in-depth discussions.
"This unique and carefully selected circle of women is a collective of various mindsets, thoughts, and ideologies," says KIMBERLY MCLAUGHLIN-SMITH (above), coordinator of the discussion circle, a private consultant and University of North Carolina Wilmington's diversity and inclusion specialist.
"The goal of 'Light in the Shadows' Women's Discussion Group is to have women of differing opinions come together to have a rich and in-depth dialogue related to social justice and race," McLaughlin-Smith says.
The event's name is a reference to Light in the Shadows, a video by Shakti Butler that features candid conversations about race among a group of women.
McLaughlin-Smith is working on the retreat with SUSAN SMITH-PRITTS, center director of Beach Forest Retreat in Holden Beach – the site of the event.
Potential participants can find out more information and how to apply by sending their name, phone number, and email address to seaanewdawn@gmail.com or 292-9091.
–Vicky Janowski