October Spotlight
Area newsmakers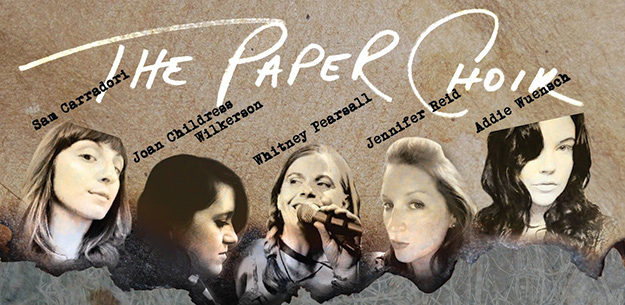 Album Features Local Musicians
When local musician Thom Kunz was putting together his new album, PAPER BRAIN, he knew what kind of sound he really wanted.
"I needed to go from an angry siren to a bittersweet ocean wave – there's a complexity to female voices, in my opinion, that conveys the 'colors' and 'tone' of songs like no other sound. Strong female singers are born narrators," Kunz says.
To that end, he recruited "THE PAPER CHOIR," a collection of five women from the Wilmington arts community with a sweeping variety of voices. The result is a dark, melodic industrial rock album with as many moods as a fall day. Paper Brain became available on Bandcamp, Amazon, and on iTunes September 29.
– Bridget Callahan
Girardot Heads Up Planning Board
Members of the New Hanover County Planning Board elected DONNA GIRADOT as the group's new chairwoman.
She moved up from the planning board's vice chairwoman spot.
Girardot is the former executive officer of the Wilmington-Cape Fear Home Builders Association and the founder and former CEO of the Business Alliance for a Sound Economy.
"Being a member of the Planning Board allows me to be an active participant in the drafting and implementation of the county's new Comprehensive Plan which, when completed, will determine where and how growth will occur, encourage economic development, and have an impact on preserving our natural resources," Girardot says.
– Vicky Janowski
Area Authors' Works RECENTLY Published
Local writers are featured in recently released books, one a gripping murder mystery, and the other a compilation about life in Wilmington.
NINA DE GRAMONT, who teaches in the University of North Carolina Wilmington's MFA program, penned her latest, The Last September.
The novel came out in September and was published by Chapel Hill's Algonquin Books. Now on her book tour, de Gramont's schedule includes a stop at the Miami Book Fair this month.
Also recently released is 27 Views of Wilmington: The Port City in Prose & Poetry, put out by Eno Publishers in Hillsborough.
It features twenty-seven local authors and poets, including DANA SACHS, JAMES LEUTZE, ASHLEY WAHL, NAN GRAHAM, JOHN JEREMIAH SULLIVAN, and others, with an introduction by CELIA RIVENBARK, looking at different perspectives of living in the Port City.
– Vicky Janowski
ABC Board Names New CEO
MARINA QUEEN started as the New Hanover County Alcoholic Beverage Control Board CEO last month.
Queen previously worked at the Greensboro ABC Board, including as personnel director and assistant manager for more than six years. Queen also spent more than four years as an education specialist with the North Carolina ABC Commission and spent 12 years in the U.S. Air Force, where she was a medical service journeyman.
"I am looking forward to working for the New Hanover ABC Board and embracing a community that has so much to offer its residents," Queen says.
The CEO position became vacant when Dan Sykes retired in June as head of the organization. As chief, Queen will oversee daily operations of the eight ABC stores in New Hanover County area as well as the two other stores specifically for bar and restaurant owners.
– Vicky Janowski