October Spotlight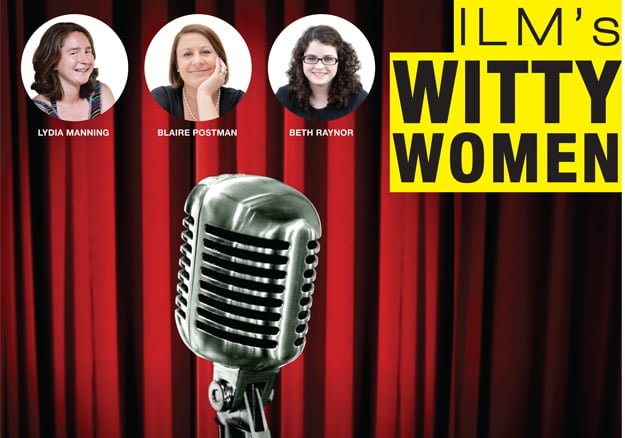 Series showcases ILM's funny ladies
WILMA magazine's WILMA Connects this month hosts the first of two nights featuring the stand-up talents of local female comedians.
ILM's Witty Women takes place October 14 and November 11, with sets from three area women each night.
LYDIA MANNING, BLAIRE POSTMAN, and BETH RAYNOR bring the laughs on the first night at the Dead Crow Comedy Room, 265 North Front Street.
For info on tickets and show times, go to www.WILMAConnects.com.
-Vicky Janowski
Knotts named new elections director
SARA KNOTTS was recently named director of the Brunswick County Board of Elections.
Knotts, who assumed her new role following the retirement of former director Greg Bellamy, has worked for the board of elections for eight years, most recently as deputy director.
Melissa Monroe, formerly an elections technician, replaced Knotts as the board's deputy director.
"Once I got here, I just had to pick it up and run, and of course Greg helped a lot," Knotts says.
She is a University of North Carolina Wilmington graduate.
-Jenny Callison
WIN gives grant to teen health group
WILMINGTON HEALTH ACCESS FOR TEENS is normally on the giving side of things: providing medical, mental health, and nutrition services to young people from its four centers in New Hanover County. But at a luncheon last month, it was WHAT's turn to receive.
The organization was awarded a $32,000 grant from the Women's Impact Network (WIN) of New Hanover County to help support services for up to 8,000 students.
WHAT was founded in 1995, the result of efforts by a group of women concerned about poor health outcomes among adolescents in the county and many teens' lack of access to health care and mental health services.
"WHAT has a real understanding of the power of women," executive director Joy Grady said at the event. "We hope we can take your grant and become a safe haven (for teens)."
-Jenny Callison
HALF UNITED CEO invited to SXSW
HALF UNITED co-founder and former WILMA Women to Watch winner CARMIN BLACK heads to Austin this month for the SXSW Eco Startup Showcase.
The clothing and accessories company, which gives half its profits to hunger-fighting initiatives, was chosen as a semi-finalist among for-profit companies making a social impact.
"Being able to present and be recognized amongst our socially conscious peers is an amazing honor, and for my team and I, it really validates how far we've come since 2009 when we started with just $200," Black says.
Black, who founded the company with her brother and is its CEO, also was invited last month to speak at the North Carolina Business & Economic Development Summit in Washington, D.C.
-Vicky Janowski