October Spotlight
Area newsmakers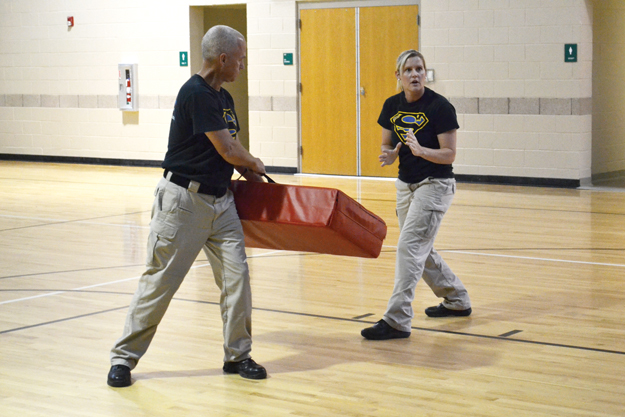 Free self-defense classes for women
Deputy T.K. NOWELL and Sergeant BERT REAVES of the Brunswick County Sheriff's Office Crime Prevention Unit teach free self-defense classes for women.
Nowell and Reaves received 30 hours of training in the Rape Aggression Defense Systems (R.A.D.) model to teach women self-defense. The classes are designed to give women practical tactics to defend themselves against attackers.
A lecture, hands-on instruction and optional simulations are included in each 12-hour course. Classes are free for Brunswick County women of all ages, though parental consent is required for those under the age of 18.
To find out more, call 910-253-2708 or fill out an application at http://brunswicksheriff.com/rad.
-Meredith Burns
Best-selling author comes to ILM
New York Times best-selling author EMILY GIFFIN will be the honored guest at the Pink Ribbon Project Luncheon on Thursday, Oct. 3. Her six novels tell stories about women in complex marriages, friendships, or jobs.
Giffin was overjoyed to be asked to participate in this breast cancer awareness fundraiser, says Jamie Thompson, special events officer for the New Hanover Regional Medical Center Foundation.
"[It's] a chance for her fans to be a fan of Pink Ribbon," Thompson says.
Giffin's latest book, Where We Belong, was released this year.
-Lori Wilson
New site highlights local creatives
Photographer KATHERINE CLARK and writer AMANDA THAMES join artistic media with a new website, CreativeProfilesILM.com, which highlights two local creative professionals every month.
Clark began the project as part of a multimedia class assignment, designing a five-episode web series. She had photographed portraits of area comedians and decided to expand her portraiture to include other creative people and what they love to do.
"I really enjoyed being able to give these people a free promotion. They are in the same boat that I am. They're trying to do something with this thing they totally love," Clark says.
They're planning a launch party on Saturday, Oct. 19 from 8-11 p.m. at the Goat & Compass. Visit Facebook/creativeprofilesILM for details.
-Lori Wilson
Local attorney appointed to state advisory council
Wilmington attorney MELISSA GOTT was appointed to Gov. Pat McCrory's Advisory Council on Hispanic and Latino Affairs. The advisory council fosters cooperation between the state and Latino community to ensure North Carolina Latino residents have access to state services.
Gott said she plans to address effective communication of storm and emergency preparedness at the council's upcoming meeting. She would also like to discuss factors, such as credit establishment, that help prepare Latinos for homeownership.
Gott is a managing partner at Gott Johnson Law Firm in downtown Wilmington and has six years of experience on the New Hanover County Planning Board.
-Meredith Burns